The reason 'SNL' cut a Rick James sketch from Dave Chappelle's episode: Donald Trump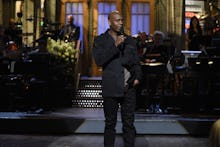 President-elect Donald Trump's victory apparently prompted Saturday Night Live to cut a Rick James sketch just days before the show's Dave Chappelle-hosted episode.
Neal Brennan, a writer for The Daily Show, revealed in an interview with WNYC's Leonard Lopate Show that he and Michael Che had written a Rick James sketch for that week's host. 
"It was going to be a Rick James Weekend Update piece about how he was glad that Bill Clinton – I'm sorry – Donald Trump, lost," Brennan said, explaining that he and Che wrote the sketch around 9 p.m. during election night. "Then, he won. So, me and Che had to rewrite that sketch. We ended up not doing it."
While the Chappelle episode did feature several of his famous characters in a Walking Dead spoof, Trump's win robbed viewers of perhaps his most iconic character.
In turn, Trump's victory did help the writers come up with the "Election Night" sketch that featured Chris Rock alongside Chappelle, mocking white liberals dealing with the results and slowly realizing Hillary Clinton was going to lose. 
That sketch, Brennan explained, was inspired by conversations happening at Studio 8H that week: "Colin Jost and I wrote that 'Election Night' sketch just in a rush of, 'We should probably make fun of last night,' like the evolution of how that night happened, of this slow realization."