'Kingdom Hearts 3' Release Date: Tetsuya Nomura discusses new worlds and 'KH3' development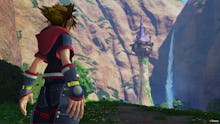 It's been more than 10 years since the release of Kingdom Hearts 2. That makes Kingdom Hearts 3 a highly anticipated title, despite there being relatively little information about the game or when we might get our hands on it
As part of an interview about the overall Kingdom Hearts franchise, Kingdom Hearts 3 director Tetsuya Nomura recently spoke with Famitsu about its ongoing development. In response to a question about how far along the development of Kingdom Hearts 3 is, Nomura didn't specify a release date but talked more broadly about the game's general progress.
From the sounds of it, Kingdom Hearts 3 is still shaping up well.
Kingdom Hearts 3 Release Date: Some worlds are "pretty much finished," others haven't been touched
It sounds like there's been a significant amount of progress made on several worlds, but Nomura was tight-lipped about which Disney properties are involved besides the ones we already know — like Tangled and Big Hero 6.
"On one hand, there are worlds that are pretty much finished; on the other hand, there are worlds we still haven't even touched," he said, according to a translation from Kingdom Hearts Insider. "Worlds we haven't announced yet tend to be further along in development, so we're at a stage where what we could show is what we can't show."
Nomura acknowledged his remarks might be worrying to fans, but he was quick to try to assuage those fears, calling it "business as usual."
"We never start by working on all the worlds at the same time," he said. "In order to avoid having to redo things once we've started, it's necessary to let things take shape only after all the elements have received approval, and there are currently some worlds that are still being audited ... But, you don't have to worry about the quality."
Nomura didn't specify when we'd catch our next glimpse of Kingdom Hearts 3, but the Electronic Entertainment Expo — E3 — in June is probably a safe bet.
Kingdom Hearts 3 Release Date: No solid details yet
Square Enix has yet to confirm a release date for Kingdom Hearts 3. It's still in the "it'll be done when it's done" phase.
This lack of concrete information is frustrating from a consumer's point of view, but it's probably the right move. Square's most recent game, Final Fantasy 15, was delayed beyond its announced release date several times, which only served to rattle customers even further.
When Square announces a release date, Mic will let you know.
More gaming news, updates, tips and tricks
For more video game news, check out the latest from Mic. Here are our hands-on impressions of the Nintendo Switch, the latest trailer for Injustice 2, a giant guide to Final Fantasy 15 and a rundown of the newest patch to hit the Overwatch PTR.