Trump's inaugural luncheon menu: The 2017 feast is a sad version of presidents' past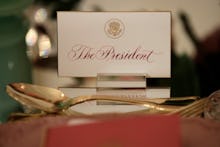 Four-hundred gallons of oysters, 60 saddles of mutton, four saddles of venison, 125 beef tongues, 75 hams, 500 quarts of chicken salad, 500 quarts of jellies, a 4-foot cake and $3,000 worth of wine.
Such reads the menu for James Buchanan's inaugural ball, held on March 4, 1857. Unfortunately, Instagram wasn't around to document such a feast.
Buchanan, known as America's only bachelor president, served today's equivalent of $80,0000 worth of wine to 6,000 guests to celebrate the start of his presidency. Four years later, Abraham Lincoln, not known for being a foodie president, hosted an inaugural lunch in 1861, serving much simpler foods like mock turtle soup, corned beef and cabbage, parsley potatoes, blackberry pie (not cherry!) and coffee. Emboldened by his second term, Lincoln swayed toward more lavish fare in 1865 — serving a buffet of oysters, four types of beef, three types of veal, various poultry and game dishes and dozens of cakes, tarts, jellies and ice creams (reminder that refrigeration was not a thing back then and cold desserts were a serious luxury) that famously ended in a food fight. 
The Washington Evening Star described the fiasco: "The floor of the supper room was soon sticky, pasty and oily with wasted confections, mashed cake and debris of foul and meat." Still, that didn't stop President James A. Garfield from ushering in his 1881 presidency with 15,000 cakes; 3,000 rolls; 350 loaves of bread; 100 gallons of pickled oysters; and 250 gallons of coffee, though no known food fight ensued. John F. Kennedy's 1961 inaugural luncheon menu featured all-American dishes from across the country, like New England lobster and Texas prime beef. 
The tradition of inaugural meals is long and hearty — new presidents have served their favorite foods and dishes representing the states they came from for almost as long as the office of president has existed. The Joint Congressional Committee on Inaugural Ceremonies' inaugural luncheon became an official presidential activity since 1953, and though Jimmy Carter didn't host a lunch, every president to follow has put his own personal touch on the luncheon menu. 
At the last inaugural lunch, celebrating Obama's second term in office, the president served a menu of lobster with New England clam chowder, grilled bison with red potato horseradish cake and wild huckleberry reduction, and a Hudson Valley apple pie with sour cream ice cream. The menu incorporated three regions of America and allowed guests to taste the theme of the meal, "Faith in America's Future." 
On Jan. 20, Donald Trump will be sworn into office as the 45th president of the United States, and will continue on the tradition of the inaugural lunch. Trump's menu will not feature the taco bowls of Trump Tower nor the steaks of his beloved local New York City haunts, but rather takes the form of three-course lunch not entirely dissimilar to Barack Obama's previous inaugural lunch. The courses will also be paired with wines from California, that state both House Majority Leader Kevin McCarthy (R-Calif.) and House Minority Leader Nancy Pelosi (D-Calif.) represent.
• Maine lobster and Gulf shrimp with saffron sauce and peanut crumble to be paired with J. Lohr 2013 Arroyo Vista Chardonnay
• Grilled Seven Hills Angus beef in dark chocolate and juniper jus with potato gratin paired with Delicato Black Stallion 2012 Limited Release Napa Valley Cabernet Sauvignon 
• Chocolate soufflé and cherry vanilla ice cream served with Korbel Natural "Special Inaugural Cuvée" California Champagne. 
Remarkably, America's first billionaire president isn't serving over-the-top bottles of Dom Perignon or Cristal but rather sticking to tradition by serving Korbel's California-made bubbly, which can be found in grocery stores across America for roughly $13 a bottle. 
Trump's luncheon menu marks a change in tradition
Oddly, Trump doesn't have any connections to his home state of New York on his inaugural menu. While New York has countless iconic foods, from NY strip steak to cheesecake to Manhattan clam chowder, Trump instead picked Seven Hills beef, which still fits the inaugural "Make America Great Again" theme by supporting a local Virginia farmer. But still, doesn't he have any New York pride? CNN postulates the Gulf shrimp may be a reference to his Mar-a-Lago estate in Palm Beach. 
While Trump's menu does read like a Restaurant Week prix-fixe to be served in a number of Manhattan fine dining establishments, the feast isn't as lavish as some may expect Trump to serve. In 2005, George W. Bush served scalloped crab and lobster, roasted Missouri quail with chestnuts and brined root vegetables and steamed lemon pudding with apple wild cherry compote, a spread just as likely to perhaps be on your fancy aunt's holiday buffet as at the table of the recently re-elected leader of the free world. 
Bill Clinton's 1993 inaugural luncheon was also a not-too-decadent affair featuring grilled salmon with sorrel sauce, rosemary chicken with pecan rice and ginger baby carrots and an apple-cranberry brown betty with créme anglaise, a meal straight off the cover of a '90s cooking magazine. 
The inaugural committee has shared recipes online for Trump's feast Friday, in case you want to cook along. You might also participate by drinking with every course.