Trump EPA pick says climate change is real in a reversal from his past comments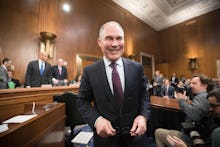 Scott Pruitt, President-elect Donald Trump's nominee to lead the Environmental Protection Agency, said Wednesday at his confirmation hearing that climate change is real and that humans play a role in it — a reversal of his past statements.
"Science tells us the climate is changing and human activity in some matter impacts that change," Pruitt said when asked by Sen. Ed Markey (D-Mass.).
Pruitt went on to question how much of an impact humans have on climate change, saying that's, "subject to continuing debate and dialogue."
However his admission that climate change is real and in part caused by humans is a reversal from statements he's made on the issue from as early as May, when he said there is legitimate debate about the science behind climate change.
"Scientists continue to disagree about the degree and extent of global warming and its connection to the actions of mankind," Pruitt co-wrote in an op-ed in the National Review in May. "That debate should be encouraged — in classrooms, public forums and the halls of Congress. It should not be silenced with threats of prosecution. Dissent is not a crime."
Pruitt also disagreed with his would-be boss, Trump, who once tweeted that climate change is a "hoax" started by China.
"I do not believe climate change is a hoax," Pruitt said.
Pruitt is one of Trump's most controversial nominees.
As attorney general of Oklahoma, a position he currently holds, Pruitt has sued the EPA over emissions standards.