Meet Louis Bubko, the 18-year-old model that Ashley Graham lifted up — literally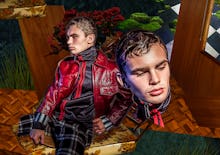 It wasn't in Louis Bubko's calendar to have his 5'8", 130lb body hoisted into the air by the tight grip of a nearly naked Ashley Graham. But then again, it's not like he's complaining. After all, as designer Michael Kors famously said, "accessories [are] the exclamation point of a woman's outfit" — and in this instance, Bubko was just that.
"I was obviously ecstatic but more so concerned about making sure I could steal some of her powerful energy for myself — kind of a joke... not really though," Bubko said in an interview. "The choking made it even better cause I live for a little drama every now and then, but to be honest, the shots are extremely genuine and were a result of us just having fun and messing around in the hotel room, completely spontaneous."
Bubko unzips his backpack to reveal a plastic-wrapped cover of the V magazine issue he is featured in alongside Graham. He carefully passes off the magazine before walking away. "I have such a fuckin' stupid runny nose," he says, returning with a napkin in hand. "This weather has been crazy and my mom, every time she calls me, she's like 'Why are you sniffling? Are you on drugs?' and I'm like, 'You know, it's cold, and there are other reasons that people might be sniffling besides blowing shit up their nose.'" He pauses a brief moment without breaking focus. "But yeah, it's good that she cares."
Though he only graduated from high school eight months ago, Bubko is already an established model, having shot with famed photographer Steven Klein. In addition to V, he's been featured in issues of Complex, V-Man and Rollacoaster. Most recently, he signed with Fusion Models, the same agency as models Leomie Anderson and Roos Abels. 
But life wasn't always so fast-paced for the young model.
The early years
Bubko was born in Stamford, a tiny rural town in upstate New York. "He was beautiful with his blonde curly hair and his lovable personality," his mother, Maria Hitt, recalled in an interview. "He always had a 'look.'" Just before his third birthday, Bubko's father died from cancer, an experience his mother says ultimately empowered him. She describes her son as empathetic, shy, charming and stubborn.
With only 300 students in his K-12 school, Bubko was unable to find a tribe all his own. "I remember there was this one guy who would drive around in his pick-up truck and just wave the confederate flag around," he said. Bubko, meanwhile, was less infatuated with shameful reminders of slavery and segregation and more with Marilyn Monroe. "I had a wall in my room where I had written all of her quotes. I was perplexed by the idea of being so desired."
Bubko's uncle, John Prochilo, distinctly remembers the exact moment he first saw his nephew as a viable model: "One Christmas, extended family gathered for the holiday, I was playing with a very fancy camera that my brother received as a gift. I grabbed Louis, then 13 years old, and dragged him outside to goof around with the camera. As I started seeing him through the lens of the camera and taking pictures, I was blown away at how magnetic and intriguing each image was. I knew then and there that he had something special." 
"He also had a six-pack when he was a toddler — seriously," Prochilo added.
This fascination with the concept of being desired and a growing affection for the camera lens led Bubko to discover Tumblr — which, at the time, was still in its infancy. He was immediately hooked: "I was on the internet all the time, right as it began to overtake society. If I didn't have the internet, I would not be shit. I would be a fuckin' Hillbilly from the middle of nowhere chewing on some tobacco. It exposed me to ideas and concepts that were weird and taboo and uncool."
Transition to modeling
Through his Tumblr, Bubko got his first taste of exposure — and soon after, at the age of 17, he began making trips into the city for photoshoots with photographers. 
He would post these photographs on Tumblr and receive an onslaught of messages, first from random admirers, and soon after by amateur photographers seeking out his talents — sometimes the line between the two interests was blurred.
"It's something that's not spoken about enough," Bubko said. "There's a lot of gay men who are photographers, and it's really interesting to see them use their artistry and their craft as a crutch to take advantage of young boys or manipulate them into situations that they wouldn't otherwise be in. They prey on you a little bit, testing you to see how far the can get with you. It's hard because a lot of models think they are the hired help, not meant to have an opinion. It's fucked up. Nowadays, if I look at a photographer's work and see it more as a plea to get me naked, I avoid them. I've been getting a lot better about advocating for myself."
As Tumblr's popularity waned, Bubko began prioritizing his Instagram presence — and with it, posting videos of himself, many of which he's now deleted. It was through Instagram that Bubko found the value of his voice to be equally as powerful as that of his physical image.
Spiritual "rebirth"
Male models are not often given (or perhaps care to take) the microphone to speak out on issues the way other models — including women, intersex or gender-nonconforming ones — often do. 
Take Sean O'Pry for instance, the world's highest paid male model. O'Pry rarely does interviews; his Instagram is acutely curated; his image is not divisive nor a conversation starter.
Bubko, on the other hand, has opinions, lots of them — and he isn't afraid to vocalize them on Instagram.
"He really tries to learn and evolve from hardship, and I think he likes to share his empowerment," Hitt said. "I think he hopes to help others and reinforce his commitment to mindfulness and thoughtfulness." 
"And I also believe he enjoys being a bit of a sassy bitch," she added with a laugh.
These days, older and wiser yet still very young, Bubko is settling into life as a Brooklynite. When he's not posting videos about raccoons he met in Central Park mid-coitus or musing on how to love and accept yourself exactly as you are, he's usually at home watching historical documentaries. "I had a lot of trouble learning in school because of the rigidity of the curriculum and my obstinance to authority, but now that I'm out of school I'm really coming to realize knowledge is power and I enjoy learning about things that actually interest me... because school is forced."
As for his continued journey of self-acceptance: "There was a time when I was was trying so hard. I was with someone — "a successful model" — and they were telling me I had to dress this way and act this way and become all these different types of people for all these different clients, but you know what? Fuck that shit. I'm me."