These 3 major Silicon Valley tech companies haven't condemned Trump's Muslim registry proposal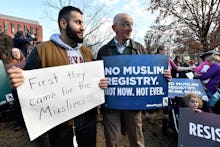 A new video campaign is targeting three major Silicon Valley giants – Amazon, Booz Allen Hamilton and Oracle — for their deafening silence on President-elect Donald Trump's infamous "Muslim registry" proposal. 
"Tech companies have to choose a side," Credo senior campaign manager Heidi Hess said in a statement. "Will they stand against Trump's hate or provide the technology and data to enable it?"
Credo Action, a progressive activist network, produced "Tech Companies Have a Choice" as a targeted outreach effort to employees of three tech companies and to pressure its employers to issue statements on Trump's reported efforts to reinstate an immigration-based registry targeting Muslim residents.
"We're counting on Oracle, Amazon and Booz Allen Hamilton to do what's right and make it clear that they will play no role in Trump's chilling Muslim registry proposal," Hess said.
The video campaign comes several months after over 130,000 activists and hundreds of Silicon Valley workers signed two petitions vowing to never build a Muslim registry.
Amazon and Booz Allen Hamilton did not yet respond to Mic's requests for comment. Oracle declined to comment.
On Dec. 22, Obama dismantled the National Security Entry-Exit Registration System targeted, tracked and monitored individuals from a list of Muslim-majority countries with the exception of North Korea. Kris Kobach, Trump's adviser and former Kansas secretary of state, was one of the primary architects of NSEERS when it was implemented under President George W. Bush's administration in September 2002.
After Trump's team reportedly denied claims of building or ever advocating a Muslim registry proposal, despite his explicit call for "extreme vetting" of Muslim immigrants, Kobach confirmed the incoming administration is preparing a proposal for a Muslim database.
So far, largely due to public pressure, six major Silicon Valley companies have issued a statement regarding Trump's expected Muslim registry and vowed to not assist his administration in establishing or creating such a database.
Here are their statements:
• Google: "In relation to the hypothetical of whether we would ever help build a 'Muslim registry' — we haven't been asked, of course we wouldn't do this and we are glad, from all that we've read, that the proposal doesn't seem to be on the table." 
• Microsoft: "We've been clear about our values. We oppose discrimination and we wouldn't do any work to build a registry of Muslim Americans."
• Facebook: "No one has asked us to build a Muslim registry, and of course we would not do so."
• Apple: "We think people should be treated the same no matter how they worship, what they look like, who they love. We haven't been asked and we would oppose such an effort."
• IBM: "No, IBM would not work on this hypothetical project. Our company has long-standing values and a strong track record of opposing discrimination against anyone on the basis of race, gender, sexual orientation or religion. That perspective has not changed, and never will."
• Twitter: "No."
Jan. 18, 2017, 6:10 p.m.: This story has been updated.