Donald Trump says he wants to "Keep America Great." So did 'The Purge.'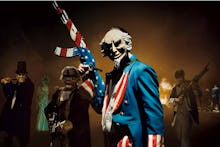 Folks on social media have often drawn parallels between the rise of Donald Trump and the events of The Purge franchise. To be clear, comparing the president-elect to a series of films in which widespread crime — including murder — is legal for 12 hours a year by decree of the United States government, isn't a compliment. 
The third Purge film, Election Year, wasn't shy about the similarities. While the main political villain in Election Year isn't the most Trump-like (instead, he sorta looks like Rick Perry), the franchise did unveil a "Keep America Great" marketing campaign for the film. It's pretty catchy. 
So catchy, in fact, it's probably going to be Trump's slogan for his reelection bid in four years. Yeah, that's somewhat foreboding. 
Trump revealed the news in an in-depth interview with the Washington Post on Wednesday, in which the subject seemed to spring up so spontaneously that Trump rushed in his lawyer to make sure the slogan "Keep America Great" would be trademarked. "I never thought I'd be giving [you] my expression for four years [from now]," he told the Post in a very Trumpian way. "But I am so confident that we are going to be, it is going to be so amazing. It's the only reason I give it to you." 
Granted, it's more likely that Trump wasn't aware that his catchy, potential 2020 slogan is straight out of a Purge marketing campaign. But it still caught the Twitterverse's attention. 
Election Year, of course, has some added resonance now that Trump has been elected (it was originally released in July). It's enough for some to believe Election Year deserves some Oscar love, if only for the sheer absurdity of what's transpired since. 
"The Oscars recognize thriller screenplays more often than you might expect, although the bias is unsurprisingly toward more mainstream and prestige ones," Ryan Vlastelica wrote for the AV Club. "But Election Year holds nothing back and is all the more effective for it, especially given the ugly election year we just experienced. In the boldest publicity choice of the year, it marketed itself under the tag 'Keep America Great.' If nothing else, that's got to count for something." 
At the very least it's good material for some more dank memes.