George H.W. Bush admitted to ICU for "respiratory problem" related to pneumonia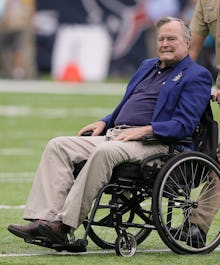 Former President George H.W. Bush was admitted to the intensive care unit at Houston Methodist Hospital with an "acute respiratory problem stemming from pneumonia," his office announced Wednesday afternoon.
"President Bush is stable and resting comfortably in the ICU, where he will remain for observation," his office wrote in a statement, according to ABC News.
Bush's wife, Barbara, was also admitted to the hospital as a precaution after "experiencing fatigue and coughing," according to Bush's office. 
Bush, 92, was admitted to the hospital Saturday for "shortness of breath," his office announced Wednesday.
He announced earlier this month that he would not be attending President-elect Donald Trump's inauguration Friday due to his "advanced age."
He elaborated on his reasoning not to attend the inauguration in a Jan. 10 letter to Trump, writing, "my doctor says if I sit outside in January, it likely will put me six feet under."