'Diablo 3' Necromancer Release Date: Update brings new skills and class abilities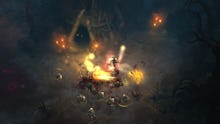 Blizzard revealed some great new content coming to the dopamine-generation tool called Diablo 3 in November at its annual BlizzCon conference. Players are already been enjoying the anniversary contents of patch 2.4.3, but there's another big update in the works that hasn't come to fruition yet: the Necromancer.
The Necromancer is the next playable class to come to Diablo 3, but it doesn't have a set release date yet. It will come in the "Rise of the Necromancer" add-on pack sometime in 2017. The price is also still a mystery, but plenty of details have already been revealed.
Here's everything we know about the Necromancer update for now.
Diablo 3 Necromancer update: Raise the dead
Necromancer was one of the classes in Diablo 2 but seemed to be replaced by the Witch Doctor in Diablo 3. For example, both classes revolve around summoning zombified minions. However, in an interview with Polygon, a Blizzard designer revealed that the new Necromancer will have more direct control over their skeleton army. It won't necessarily turn Diablo into Starcraft, but it will give the player "more options," Polygon reported.
Blizzard went into more detail on its company blog. This Necromancer is a "reimagining" of the class from Diablo 2, rather than a simple copy-and-paste job from one game to the next. You'll be able to make corpses explode, throw spears made of bone, command your ghostly hordes to attack enemies and more.
If you haven't played Diablo 3 in a while, the release of "Rise of the Necromancer" will be a great excuse to dive back into the game. To see the Necromancer in action, check out the trailer below.
More video game news and rumors
Mic has all the latest gaming news, including information on the next Pokémon Go event, hands-on impressions of the Nintendo Switch and what you get with the special edition of The Legend of Zelda: Breath of the Wild.