Trump Inauguration 2017: Chrisette Michele may fill the void left by Jennifer Holliday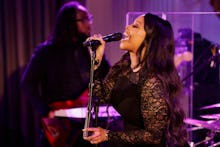 Earlier this week, Donald Trump's inauguration team reportedly revealed they've booked a bunch of names for the coming inauguration festivities — but they won't be sharing any of them with us. It seems Trump's organizers did not want a repeat of Jennifer Holliday's attack of conscience, TMZ reported Tuesday. Holliday signed on late last week, but publically backed out after weathering an enormous fan backlash.
However, it seems certain members of the team couldn't keep their mouths shut. A Wednesday report from New York Daily News revealed Chrisette Michele, Grammy award-winning R&B artist, has signed on, according to "sources close to the festivities." 
Essence received confirmation from Michele's team the reports are true, though the magazine noted Michele's managers "seemed a bit taken aback by the news and was unable to give further comment."
Who is Chrisette Michele?
Chrisette Michele's biggest stage-stealing moment came in 2009 when she won a best urban/alternative performance Grammy, for her song "Be OK." Since then she's seen her album Better snag a 2014 Grammy nomination for best urban contemporary album. She also appered on a season of the show R&B Divas LA. 
Organizers for Trump's inauguration originally wanted Michele to perform the song "Intentional" with Travis Greene, Jonathan McReynolds and Tye Tribbett, in a repeat of the group's performance from BET's Celebration of Gospel in 2016, according to New York Daiy News. Yet after at least two of the names declined the invivation, organizers settled for a solo Michele set.
Most reactions across social media have not exactly been thrilled.
Questlove, the drummer of the Roots which collaborated with Michele for their 2008 track "Rising Up," has gone as far as offering to pay the artist to not perform the inauguration.
It seems Michele is determined to weather this criticism. Thursday morning, her team sent Mic a determined statement, which the artist also posted on Twitter. "I am willing to be a bridge," Michele wrote, before nodding to her 2016 track "These Stones." "I don't mind 'These Stones,' if they allow me to be a voice for the voiceless. I am here."
Read the full statement below.
Jan. 19, 2016, 7:55 a.m.: This story has been updated.