President Obama on Chelsea Manning clemency: "Justice has been served"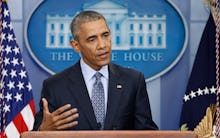 President Barack Obama said he is "comfortable" with his commutation of Chelsea Manning's sentence, saying Manning "served a tough prison sentence" for leaking classified information and that her sentence was "disproportionate" to what others had received for similar crimes.
"It made sense to commute and not pardon her sentence," Obama said Wednesday at a news conference. "I feel very comfortable that justice has been served."
Obama announced Tuesday he would commute Manning's 35-year prison sentence for leaking classified information to WikiLeaks.
Manning, a transgender woman, is serving prison time in a male military prison.
She is set to be released on May 17 after serving a total of seven years in prison.