What are the next states to legalize marijuana? What's ahead for Wisconsin, New York, Texas and more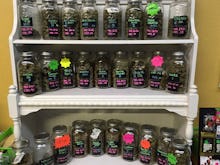 Which states will legalize or decriminalize marijuana next?
The 2016 election was a big win for Big Weed, with California, Massachusetts, Nevada and Maine all voting to legalize recreational marijuana. 
More than half the United States allows the drug's sale in some form or another, yet there's no indication that we'll see a change in how it's treated at the federal level. 
So the question, as ever, remains: What states will follow?
Voters, activists and legislators are poised to keep marijuana's momentum going in the coming months, looking to grab a piece of the booming pot industry, offer medical alternatives and reduce the number of low-level drug offenders incarcerated in overburdened penal systems. Here's where a few different governments stand in their efforts to join the stoner states club. 
Wisconsin
Although Gov. Scott Walker and State Senate Majority Leader Scott Fitzgerald, both Republicans, are publicly opposed to medical marijuana, Democrats just proposed a bill to legalize it. 
According to WEAU, Sen. Jon Erpenbach and State Rep. Chris Taylor began circulating their legislation in search of cosponsors "after Republican Assembly Speaker Robin Vos said he would be open to the idea." They will cite public support to "help those who are suffering with debilitating illness." 
New York
While New York has proven surprisingly resistant to policy shifts on marijuana, the sudden legalization next door in Massachusetts, which takes effect in 2018, may speed up the process in the Empire State. "It forces electeds to consider certain marijuana-related policies that they could have just avoided for a while," said Chris Alexander, policy coordinator for the New York office of the Drug Policy Alliance. Assembly Health Committee Chairman Richard Gottfried, who has advocated for legalization, also said that "Massachusetts approving it helps a lot to give the concept momentum and credibility and legitimacy."  
Vermont
Cannabis proponents were dealt a defeat in Vermont in 2016, when its House defeated a Senate-approved plan for legalization, also scrapping an alternative plan to lessen punishments for possession. Even Gov. Peter Shumlin said he was "incredibly disappointed" by the decision to forestall a "smarter policy" than that inherited from the War on Drugs. 
A February 2016 poll by Vermont Public Radio and the Castleton Polling Institute found that 55% of Vermonters were in favor of legalization, with just 32% opposed — which is why lawmakers will almost certainly reconsider the matter in 2017, perhaps even seeking to revise their original bill.
Texas
Yep, you read that right: Despite its renowned conservatism, Texas legislators have prefilled a slew of marijuana reform bills for the 2017 session. Some aim to decriminalize the drug completely; others seek legalization for medicinal purposes. The new Harris County district attorney, Kim Ogg, whose district includes Houston, has indicated a new path forward in misdemeanor possession cases. During her swearing-in ceremony, she said that all such offenders would be "diverted around jail," adding that "I've never felt good about putting marijuana users in the same jail cells as murderers. It's just not fair, it doesn't make any sense, and our country is resoundingly against that." 
Connecticut
Remarking on "a national trend moving in that direction," Connecticut's Democratic Senate President Pro Tempore Martin Looney introduced a bill this month to legalize recreational marijuana in the state — which, like New York, has provisions for decriminalization and medical use but is now bordered by a state with greatly expanded access. 
In response to Gov. Dannel Malloy's opposition, Looney appealed to a familiar argument, noting that a weed tax structure similar to Colorado's could net Connecticut $50 million a year. Good news in light of its $1.5 billion budget shortfall, no? 
Rhode Island
Like many other states, Rhode Island doesn't jail anyone for simple possession. 
New England is obviously on pace to challenge the West Coast among marijuana-friendly regions of the country, and Rhode Island appears to be doing its part. There are few barriers to full legalization apart from some tinkering with the basic framework. 
For the seventh year in a row, Rhode Island's legislature will consider recreational use, this time with the knowledge that its neighbors will soon be reaping tax dollars that would make anyone green with envy.   
Delaware
The First State has already taken steps to decriminalize cannabis possession and is expected to take up the issue of legalization for those 21 and older early in 2017. In a meeting of Delaware's Medical Marijuana Act Oversight Committee in October 2016, Sen. Margaret Rose Henry said, "It's certainly being considered. It's going to be an uphill battle. But it's time, quite frankly. It's time to certainly look at it." 
It would seem her constituents agree: Some 61% of residents are in favor of legalization, with a scant 35% opposed. 
New Jersey
In defiance of staunchly anti-pot Gov. Chris Christie, who really just can't catch a break, New Jersey's Democratic-led legislature is pushing forward with legalization efforts, saying that he is out of touch with popular sentiment. 
Sen. Nicholas Scutari is leading that charge, with plans for a fact-finding mission in Colorado and a bill proposal in February. He doesn't imagine Christie will sign such a document into law, but he's looking forward to a new administration: The embattled Christie, having served two terms, is not eligible for reelection.
Missouri
So far this year, Missouri Secretary of State Jason Kander has approved two separate petitions to legalize marijuana, meaning that with the right number of signatures, the question may be put to voters on the 2018 ballot. 
Apart from simply approving the taxation, regulation and sale of weed to anyone over 21, the petitions would "expunge records for those who have committed nonviolent marijuana-related offenses," according to Ozarks First. Meanwhile, state senators from both sides of the aisle are endeavoring to make medical marijuana a reality for Missouri as early as this year.
New Mexico
New Mexico residents face jail time for possession of nonmedical marijuana, and some lawmakers have sought to burden the weed economy there. 
But Sen. Cisco McSorley is looking to make opioid addiction a qualifying condition for medical weed and allow veterans to get prescriptions. With his Senate Bill 8, Medical Marijuana Changes, he's also proposing to "double the amount of cannabis a patient can possess" and ban a cap on the concentration of THC — weed's key chemical ingredient. 
In the meantime, Sen. Gerald Ortiz y Pino is pushing a constitutional amendment that, if passed by both houses of the state legislature, would allow voters to decide on legalization themselves, evading an otherwise likely veto from Republican Gov. Susana Martinez. A similar proposal was killed by the New Mexico Senate in 2016.
South Carolina
As in Vermont, South Carolina citizens lack the right to change laws by a citizen-initiated ballot referendum, so it's up to the state government to shift marijuana policy. 
And just a few days into 2017, a bipartisan group of legislators introduced the South Carolina Compassionate Care Act, which "will allow patients suffering from debilitating medical conditions to access medical cannabis if their doctors recommend it." Perhaps most interestingly, the bill's lead sponsor, Sen. Tom Davis, is a Republican, which suggests that weed is becoming less and less of a party-line issue.
Michigan
With the state anticipating a 2017 boom in medical marijuana dispensaries following the adoption of new laws designed to expand, regulate and tax such businesses — as well as create a new revenue stream for the state — full legalization is on the horizon. 
Despite a last-minute federal court ruling that kept the matter off the ballot in 2016, the group MI Legalize is determined to try again. This time, it plans to organize a drive for voter signatures on a new petition that, if successful, would put legalization on the ballot in 2018. According to its Facebook page, it's also vowed to take Michigan to the U.S. Supreme Court "in what may be the most important early test of the Trump administration."