10 Galentine's Day gifts for every fierce feminist in your life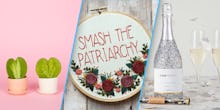 Galentine's Day is upon us, and it's the single most important once-fictional holiday to ever be created. That's right. The. Best. One. Ever. 
A Leslie Knope creation, Galentine's Day is a holiday dedicated to ladies celebrating ladies. Hooray! 
"Feb. 14, Valentine's Day, is about romance," Knope explains in a 2010 episode of Parks and Recreation. "But Feb. 13, Galentine's Day, is about celebrating lady friends. It's wonderful and it should be a national holiday." We couldn't agree more.
If you don't already celebrate Galentine's Day, it's never too late to start. Take the day to celebrate a few of your closest lady friends. Feel free to shower them with a few badass feminist gifts to thank them for helping you slay the patriarchy. And remember: "Uteruses before duderuses." 
Forget buying a traditional friendship bracelet this Galentine's Day. Instead, gift a piece of jewelry that gives back. Bird + Stone offers a variety of bracelets that help fund different charitable organizations. The Girls' Education Bracelets give $3 towards global programs that help high school girls become leaders in their communities. The Dreambuilder Cuff gives $5 to help entrepreneurs in Kenya start their own business. Oh, and the recently released The Future is Female cuff donates $5 to Planned Parenthood. 
Billed as a subscription box filled with socially conscious lifestyle products for women, Causebox is truly a gift that keeps on giving. Sent out quarterly, the box contains products purchased from companies that help give back to the community, whether it be through job creation or access to clean water. Talk about a feel-good present.
Gift your gal pal artwork that literally speaks for itself. Etsy is full of beautiful embroidered pieces that put women's rights front and center. We're especially obsessed with the pieces in MoonriseWhims' shop, which feature fierce feminist slogans and gorgeous stitchwork. Trust us, these pieces would look great on any wall.
If embroidery isn't really your friend's preferred form of art, opt for an eye-catching feminist icon poster from TheFilmArtist on Etsy. From Malala to Notorious RBG, there's no absence of female empowerment in these colorful prints. Make sure the artwork is ready-to-hang by framing it beforehand.
Let your galentine show off her feminist pride with this iconic Michelle Obama tote bag from Strand Books. Take this gift to the next level by filling it with a feminist book (or two!). Might we suggest How to Win at Feminism, or Men Explain Things to Me? 
Fighting the patriarchy can be exhausting. Help your galentine relax with a thoughtful gift from Lush's Valentine's Day collection. From edible lip scrubs to sudsy bath bombs, there's a sweet-smelling gift for every badass woman on your list. Pair this gift with a fierce, feminist card and you're on your way to having a perfect Galentine's Day.
Who says makeup and feminism don't go together? Beauty brand Beautiful Rights offers three feminist-inspired cosmetic products that are just too good to pass up: Gloss Ceiling Lip Gloss, Pantsuit Pink Lipstick and Politically Pout Lipstick. Although the products in the Stronger Together Collection can be purchased individually, your galentine deserves the whole damn series. Beautiful Rights also donates 20% of all sales to support the "women's rights and gender justice initiatives of your choice." How cool!
Sometimes you just don't have time to search for the perfect Galentine's Day gift — and that's totally okay. BloomThat, a floral startup in San Francisco, has you covered. Their prepackaged Galentine's Day gift, the Pack to Future, includes a "The Future is Female" t-shirt, a petite box of Sugarfina rose-infused gummies, and a Herbivore Botanicals' Rose Hibiscus Hydrating Face Mist. And the icing on top of this super convenient cake? Five dollars from every Galentine's Day sale will be donated to Planned Parenthood. Yay!
Let's be honest, wine is always a great gift. This Galentine's Day, take your wine-gifting game to a whole new level with these epic OneHope gift boxes. Although there are many gift boxes to choose from, we especially adore the Pride Box, whose proceeds help fund operational costs for an LGBTQ youth helpline, and the Glitter Celebration Pack, whose profits help provide 25 meals to children in need. The good news is, regardless of which wine you choose for your galentine, you know that proceeds from that sale are being donated to one of many charities supported by OneHope.
Nicknamed 'the sweetheart plant,' The Sill's Heart Hoya Workshop is the perfect Galentine's Day gift for any plant lover. The workshop is hosted on Valentine's Day at The Sill's NYC outpost. Here, you can plant your own Heart Hoya together — how cute! Of course, if you're not in the NYC area, you can ship your Galentine an adorable low light plant or Marimo Moss Ball for her to enjoy. Don't forget to name your plant after a badass feminist icon.
Of course, you don't need a present to show your galentine how much you care. Treat her to a BFF spa day — hey, fighting the patriarchy is hard work! — or spoil her with tons of homemade waffles, Leslie Knope-style. All that matters is you're together on this special day, celebrating the beauty of female friendship.