'This Is Us' Season 2 and 3: NBC's hit drama will return for 36 more episodes minimum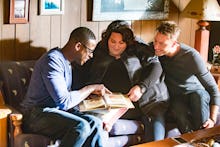 This Is Us, NBC's hit drama that is either a scientifically crafted series to make people cry human tears or a secretly great program with a lot of heart, has officially been renewed for second and third seasons. 
Per Vulture, the renewal came during the show's panel at the Television Critics Association. The two seasons will consist of 36 episodes total, broken up into 18-episode installments, according to the Hollywood Reporter. Season one, still currently airing, will also air for 18 episodes.
"We all got our wish that this is a hit show," NBC Entertainment President Jennifer Salke said, according to the Hollywood Reporter. "This Is Us is as good as anything we've ever had. We're thrilled to renew it for two seasons and there's no doubt it will have a long life on NBC." 
The success of This Is Us on NBC has been buoyed by positive reviews from critics and high ratings, and features a star-studded, ensemble cast that includes Mandy Moore, Sterling K. Brown, Chrissy Metz and Milo Ventimiglia. As Mic's Kevin O'Keeffe wrote in a mid-season review for the series, its cast is complimented by a smart script and powerful stories connecting all the characters together (how they're connected, exactly, is a big, spoiler-ific twist for the pilot we won't disclose here). 
"These are compelling stories (some more so than others; the Kate story so far has been disappointingly singular in its focus on her weight) handled with a light hand," O'Keeffe wrote. "It's the definition of lovely TV. It is not light, however, either in quality or in tone. To relegate it to some bin of lower caliber because of its genre is to greatly underestimate it. This Is Us is smart, lived-in TV. Few shows on TV are as capable of balancing tone, character and story as expertly as it does right now."
The next episode of This Is Us airs Tuesday at 9 p.m. Eastern.