Feds allege millions of borrowers are being misled by Navient, nation's largest student loan service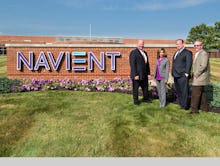 Ever felt like the dizzying language on your student loan statements is criminally complex?
You might be right — literally.
The watchdog Consumer Financial Protection Bureau announced Wednesday that it's suing the nation's largest student loan servicer for "illegally failing borrowers at every stage of repayment."
The specific allegations from the CFPB were sprawling: In many cases, the agency alleges, students on income-based repayment plans have been misled about having to reapply for income-based repayment each year. 
When they missed the deadline to re-enroll, their payments shot up. 
Fun! 
But perhaps most disturbingly, the CFPB also alleges Navient — formerly Sallie Mae — misreported the payment status for disabled veterans to the credit bureaus. Vets who get injured as part of their service are entitled to loan forgiveness under the Total and Permanent Disability discharge program.
But instead of reporting their loans as forgivenen, Navient reported the loans as being in default — which can have devastating consequences for borrowers. 
Navient flatly denied most of allegations in a statement, saying the lawsuit reflects the bureau's "political motivations," but a representative for the company wouldn't respond to repeated questions from Mic about the CFPB's claims regarding veterans. 
That's noteworthy, because Navient has a shoddy record on vets: Back in 2015, the Department of Justice negotiated a $60 million settlement with Navient for allegedly overcharging former servicemen and women. At least some of the borrowers received more than $100,000 in restitution. 
Altogether, Navient services about 12 million borrowers, six million of them through Department of Education contracts, amounting to some $300 billion in student debt, according to the CFPB. 
The new CFPB ruling isn't particularly surprising, said Kelly Peeler, founder of NextGenVest, a startup that helps students negotiate the labrynthine process of paying for college. Peeler noted that many college students don't even know they qualify for income-based repayment in the first place. 
"Imagine being a first-generation college student reading a student loan servicing statement and calling the help desk," Peeler said. "Students aren't amazing advocates for themselves, because they think that this is just the way that it is." 
Student loans are an extremely common source of complaints at the CFPB, which lists thousands of such claims on its site. Last year, the CFPB brought a similar complaint against Wells Fargo's student loan servicing business.
Sign up for The Payoff — your weekly crash course on how to live your best financial life.