Here's what we know so far about "Trumpcare"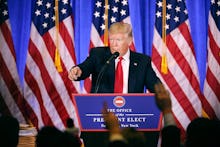 Both President Donald Trump and Republican congressional leaders have made it clear that repealing the Affordable Care Act, commonly known as Obamacare, is one of their priorities as the Trump era dawns in Washington. That's left a lot of questions, though – namely, what type of health care system will replace the signature legislative accomplishment of Barack Obama's presidency.
While neither Republicans in Congress nor President Trump have publicly announced any official details of a replacement, a few snippets — some of them conflicting — have been discussed.
In a Jan. 15 interview with the Washington Post, Trump said that the replacement for Obamacare would guarantee health coverage for all Americans. Of course, that is far from the goal most Republicans have envisioned since putting the Affordable Care Act in their crosshairs upon its 2010 passage. Promising "insurance for everybody" hews closer to the Medicare for all plan favored by the progressive wing of the Democratic Party and Bernie Sanders.
"We're going to have insurance for everybody," Trump told the Washington Post. "There was a philosophy in some circles that if you can't pay for it, you don't get it. That's not going to happen with us." 
But what Trump didn't offer was any sort of specifics about how his plan would achieve that goal.
Other Republicans have other ideas. Sen. John Cornyn (R-Texas) told the Hill that even if Trump put out a more specific vision for how to replace Obamacare, he wasn't sure it would become the basis for the congressional Republicans plan for a replacement.
Trump has made it clear he wants a new plan in place as soon as the ACA is repealed, while some on Capitol Hill have implied that it would be okay if time passed between the repeal and replace stages of the operation.
While there hasn't been a comprehensive plan put forward by the Republicans, Speaker of the House Paul Ryan's office has published a list of priorities, namely lowering premiums, encouraging small business plans and allowing people to buy plans from across state lines.