Inauguration Weather Forecast 2017: Here's what to expect in Washington, DC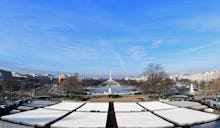 Preparations for Donald Trump's inauguration weekend are underway in Washington, D.C., but will the weather cooperate? The hundreds of thousands of people expected to descend on Washington are in for what Weather.com warns may be among the "warmest and wettest" inaugurations in recent history. 
Forecast for Friday, Jan. 20
Rain is expected on Friday sometime between late morning and early afternoon, which means Trump's swearing-in ceremony could get wet. Temperatures are expected to start around 40 degrees in the morning and rise to around 50 degrees by afternoon, with showers possibly continuing through the afternoon.
Forecast for Saturday, Jan. 21
The forecast for the day after the inauguration ceremony — when the Women's March on Washington is slated to take place — looks slightly better: cloudy but dry, with temperatures in the mid-to-high 50s, according to Weather.com.