Donald Trump Inauguration 2017 Performers: Here's who will sing at Trump's swearing-in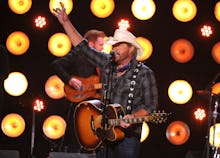 Recruiting performers for Donald Trump's inauguration has been something of a challenge, to say the least. A long list of artists, including Elton John, John Legend and Celine Dion, have publicly refused to participate. Others, like Jennifer Holliday, pulled out after initially agreeing to perform.
Who's performing at Trump's "Make America Great Again! Welcome Celebration" and subsequent swearing-in ceremony? Here's the current list.
Thursday performers
According to CBS, Thursday's concert and welcome celebration will include performances by:
— Toby Keith
— 3 Doors Down 
— The Piano Guys 
— Lee Greenwood
— DJ RaviDrums 
— The Frontmen of Country
— Several military and high-school bands 
Greenwood will sing "God Bless the USA," according to Vox. Greenwood had a few choice words for celebrities who turned down the invitation to perform, saying it was "in bad taste to say 'no'" and that the performance is "not political." 
Greenwood also performed at the inaugurations of Ronald Regan, George H.W. Bush and George W. Bush, according to CBS.
Friday performers
At the inauguration ceremony, performers will include:
— Jackie Evancho, who will sing the national anthem
— The Missouri State University Chorale 
Certain members of the Radio City Rockettes have declined to perform at the inauguration. After backlash from the public, the Madison Square Garden Company in December released a statement that said each individual dancer had the choice of whether or not to perform. However, a recent interview with a Rockette in Marie Claire showed the performers were still being pressured to participate.