Will Barack Obama attend Trump's inauguration? Here's what to expect.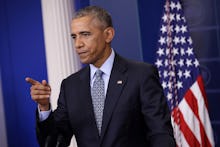 In the United States, it's long been a tradition for outgoing presidents to attend the inauguration of their sucessors. Soon-to-be former President Barack Obama is no exception.
Although the 2016 presidential election and its immediate aftermath were especially contentious, Obama and Trump have at least kept up the appearance of a peaceful transition of power, one which will be formalized during Friday's ceremony.
During his final presidential press conference Wednesday, Obama confirmed to reporters he would be in attendance on Inauguration Day, but did not comment on the more than 60 Democratic leaders who have publicly planned to boycott the proceedings.
"I'm not going to comment on those issues," Obama said. "All I know is I'm going to be there. So is Michelle. And I have been checking the weather and I'm heartened by the fact that it won't be as cold as my first inauguration, because that was cold."