Donald Trump Inauguration 2017: Start time, channel, livestream and more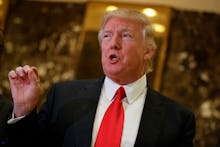 On Friday, Jan. 20, Republican president-elect Donald Trump will take the oath of office of the president of the United States, thus either (depending on your political leanings) putting America on a path to be great again or ushering in the imminent apocalypse. For those not fortunate enough to watch the event in person in Washington, D.C., there are still tremendous options to watch Trump's ascent to the presidency remotely.
Inaugural festivities officially kick off on Thursday, when Trump will attend a concert featuring Toby Keith and 3 Doors Down and speak at a dinner alongside vice president-elect Mike Pence. But the real show will begin on Friday, when Trump is scheduled to attend a short religious service at St. John's Episcopal Church at 8:30 a.m., have coffee with President Barack Obama at the White House at 9:30 a.m. and attend his swearing-in ceremony at the west front of the Capitol building at 11:30 a.m.
At roughly noon, Supreme Court Chief Justice John Roberts will administer the oath of office to President-elect Trump, who will then be known by the title of President Trump.
According to Vulture, there are many ways interested members of the public can watch the festivities from afar online, including an official White House livestream, the NBC News livestream, CBS's CBSN online TV network, the Fox News website (TV provider login required), on Twitter, numerous news organizations on YouTube, Politico and Democracy Now!
All of the major broadcast and cable news networks will be playing the inaugural ceremony live, with most continuing coverage throughout the entire day.
Later in the day, Trump will attend luncheons, review a U.S. military formation from the Capitol building, preside over the inaugural parade alongside Pence and attend two official inaugural balls and an Armed Services Ball, according to the New York Times. On Saturday, Trump will attend the Washington National Cathedral's "traditional prayer service" at 10:00 a.m., the same time the massive Women's March on Washington in protest of the president-elect's rise to power is scheduled to kick off.