People's Choice Awards 2017: Blake Lively talks "girl power" after her 'The Shallows' win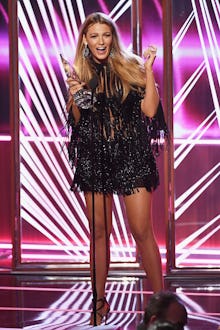 Blake Lively was up against some seriously fierce competition for the title of favorite dramatic movie actress. Emily Blunt, Amy Adams, Meryl Streep and Julia Roberts were also in the running, but in the end, it was Lively who took home the award for her role as Nancy in The Shallows. 
Lively seemed thrilled to receive the award and to be onstage with Luke Hemsworth, who stars in the HBO series Westworld. Lively mentioned she absolutely loves the show before addressing the audience.
"This is more than I ever could have dreamed of or hoped for," Lively said, before delving into her childhood dream of becoming a Spice Girl. Of the group, she said, "They're all so distinctly different ... and that was my first introduction to girl power. ... You didn't just vote for me; you voted for girl power. And men voted for girl power, too, and you guys are awesome for doing that." 
"Tell your stories now more than ever," Lively said, addressing all women. "You need to be heard. You are valuable, and no one can limit you."
This is Lively's fifth People's Choice Awards nomination and first win.