People's Choice Awards 2017: Sofia Vergara wants "more doors opened" for Latina actors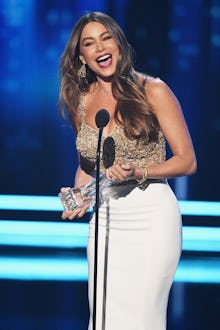 Sofia Vergara took home a win for favorite comedic TV actress at the People's Choice Awards Wednesday, winning out over Anna Faris, Zooey Deschanel, Gina Rodriguez and Kaley Cuoco. Vergara won for her role as Gloria Delgado-Pritchett in Modern Family, marking her fourth nomination and first win.
"I never in a million years thought that with this ridiculous accent I was ever going to be able to be a part of something so successful, something so loved by all of you," Vergara said.
Vergara continued by noting she has never taken her opportunity for granted, and that while her role as Gloria Delgado-Pritchett has opened many doors for her and other Latina actors, they "need so many more more doors to be opened."