Watch protesters have a queer dance party outside of Mike Pence's home in DC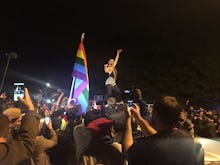 Though the inauguration of President-elect Donald Trump and his vice presidential pick Mike Pence is on Friday, hundreds of protesters got the party started early — throwing a queer dance party outside of Pence's Washington, D.C., home Wednesday evening.
Organized by the Werk for Peace, hundreds gathered outside Pence's home in Washington's Chevy Chase neighborhood to protest Pence's notorious anti-LGBTQ stances. Pence and his family rented the home temporarily before they move into a house at the Naval Observatory. 
"The work that we do is about taking our bodies out of the private into the public, using the street as our dance floor to claim space, occupy space to assert we are here and we will dance," Werk for Peace founder Firas Nasr told Mic on Wednesday before the protest. 
Though many protesters called for "Daddy Pence" to come out and dance, he did not make an appearance. 
In December, Pence's friendly neighbors welcomed him by hanging rainbow LGBTQ pride flags. 
The dance party was just one of the first of many protests ahead of Inauguration Day and weekend. Check out Mic's Storm the Swamp protest map for a full list of planned demonstrations.