DC's food trucks make big plans for hungry protesters at Women's March on Washington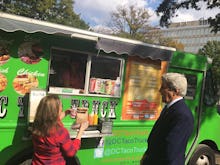 Eric Duensing, co-owner of DC Slices, Washington, D.C.'s oldest food truck, is a professional when it comes to feeding activists who descend on the nation's capital.
"Protesting takes a lot of energy," Duensing said by phone, explaining that he's worked many a protest in Washington, D.C., including the protesters who congregated after the Baltimore shootings in 2016. 
At Saturday's historic Women's March on Washington, he'll send three trucks out and about. Duensing said food trucks are perfect for serving events like the Women's March because sit-down restaurants are nowhere near as efficient (or affordable) as food trucks when it comes to feeding a hungry group of people that'll be spread across the city. 
"When you're in throngs like this, when you have an opportunity, you grab a quick slice, and you get back to why you're there — to show your voice," Duensing said. 
Apart from pizza, tacos will also be available for protesters. (But there probably won't be a taco truck on every corner.) DC Taco Truck will be serving their signature tacos along the route, Mariel Otero, whose husband owns the company's three trucks, said in a phone interview. While the warm weather will be enjoyable for marchers, Otero said it means food truck vendors will have to be vigilant about preventing meats and other food items from spoiling.
But she won't be in the truck on Saturday. "I told my husband that he can go make the money but I want to be a part of this," Otero said, adding she'll be out on the streets marching. 
Otero and Duensing both said their trucks raise prices during large events — he said he has slim margins and has to pay "exorbitant" fees for permits during the year. A slice of pizza might set an activist back $6 a slice while a $3 taco could be marked up to $5. However, Otero said DC Taco Truck had decided not to change pricing during the Women's March. "That will be our contribution," she said. 
Are the food truck veterans expecting that the passionate crowd will give them trouble? Duensing noted that nobody from any political demonstrations has ever given him a hard time. Though he notes that typical late night service to bar goers tends to be more rowdy. ("Late night in DC — I could write a book!" he said.) 
"There's been more positive than more negative [experiences at DC demonstrations]," Duensing said. "I've given out my share of free water. I'm not here to be that guy, I'm here to help everybody. Nobody hurts the pizza guys."
More than 400 food trucks are registered in the Washington, D.C., area, Najiba Hlemi, executive director of the DMV Food Truck Association, a nonprofit organization of 110 food trucks, said by phone. She's been in touch with the Women's March logistics team about road closures and the march route and has pass on the necessary info to vendors registered with the DMV Food Truck Association, who will stake out parking spots where they'll be allowed to do business for four hours at a time. Hlemi noted that many vendors will park with personal vehicles and then later swap in their trucks. 
"This is when food trucks are most needed." Najiba Hlemi, DMV Food Truck Association
There's currently no master list of food trucks that will be roaming about, but Hlemi said Food Truck Fiesta, a live map of food trucks in Washington, is "a good source to look at where the trucks will be." 
"This is when food trucks are most needed," Hlemi, said. "We know there's probably going to be 1 million people in the city roaming around."
Apart from food trucks, brick and mortar restaurants are also preparing for the influx of passionate visitors. Mr. Henry's Capitol Hill Pub will open at 8 a.m., two hours earlier than it normally opens, to accommodate activists who want to rest up and purchase coffee or pastries before they march. "We have a tradition of a progressive base of clients and we want to support that," Mark Steele, general manager at Mr. Henry's, said by phone. 
At Del Campo, people marching can enjoy a complimentary "care package" that includes a hot beverage, dulce de leche caramel corn and hand-warmers, chef and owner Victor Albisu said in an email. Empanadas and water will be for sale, and a portion of each sale will go to N Street Village, a local program for homeless and low-income women.
"For us it's simply about hospitality," Albisu said. "We believe in democracy and freedom of speech for all sides, and we want people who are coming to make their voices heard to feel welcome in DC."