Trump Inauguration 2017: Chairman claims Kanye West's music isn't "traditionally American" enough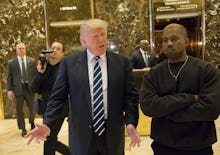 Few musicians have been more outspoken and outright brazen in their support of President-elect Donald Trump than Kanye West. He's soared on floating stages, praising Trump's "absolutely genius" campaign, and snapped pictures in the lobby of Trump Tower. They were moments that felt like deep betrayals for West's fan base and mirthful victories for Trump's young, conservative supporters. 
On the surface, this co-sign from one of America's greatest cultural exports seems exactly the type of coup a image-obsessed demagogue would want to boast of at his inauguration. Yet the world hasn't heard a single whisper of a performance. Mercilessly ridicule about Trump's inability to secure A-list talent has filled the void, begging the question: Why not Kanye?
Tom Barrack, the chairman of the Presidential Inauguration Committee, spoke to CNN about the possibility of a surprise performance by West. He said West is not "traditionally American" enough to take the stage.
Let's consider Barrack's statement line by line:
You know, we haven't asked him. He's been great, he considers himself a friend of the president-elect, but it's not the venue.
It's hard to imagine a better venue to put one of the greatest rappers alive for a president deeply concerned about the ratings. This is an entertainer who's essentially single-handedly kept the MTV VMAs relevant and the Grammys interesting. 
The venue we have for the entertainment is filled out — it's perfect. It's going to be typically and traditionally American, and Kanye is a great guy, we just haven't asked him to perform. And we move on with our agenda.
It's exactly the type of rhetoric that makes West's standing with Trump so painful for so many.
Lest we forget, West's is the story of the American dream. A young Chicago risk-taker started out working at the Gap, pulling himself up by his bootstraps to eventually design and sell his own brand of Yeezy boots. He sang about Jesus on the radio at a time no other popular artist would think of it. He helped a purely American art form become one of the most dominant in the world. While he's leaned into the occasional obscenity, so have many of the artist that fit Trump's bill.
Toby Keith's vision of the America from "Courtesy of the Red, White and Blue (The Angry American)": "We'll put a boot in your ass/ It's the American way." 
It's clear that this is the America that Trump and his inauguration team want to paint for the country. West may have his role to play in making America great again, but the heavy lifting will go to more "traditional" Americans.