Fifth Harmony performs without Camila Cabello at the People's Choice Awards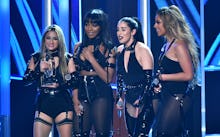 And then there were four. Last night at the 2017 People's Choice Awards, girl group Fifth Harmony performed for the first time since the departure of former member Camila Cabello. The 19-year-old singer left in December and said she would be working on new music in 2017, in a letter to her fans. 
At the awards ceremony, DJ Khaled presented Fifth Harmony with the favorite group award. That was their second time winning the accolade. The four harmonizers sang their hit "Work From Home" dressed in all-black dominatrix-style outfits, and opened their set with each member posing and dancing in boxes that had special lighting effects.
Yes, Cabello was missing, but it seems her former groupmates are fine with moving on. 
Back in December, the group tweeted a letter stating that they were informed by Cabello's reps that she had left. Cabello later wrote her own letter, stating, "The girls were aware of my feelings through the long, much-needed conversations about the future that we had during tour." Later, Fifth Harmony tried to settle the back and forth and wrote in the note below that those "supposed lengthy conversations in fact never happened."
Before going solo, Cabello tested the waters with featured appearances on other artists' tracks. She lent vocals to Shawn Mendes' hit "I Know What You Did Last Summer," which peaked at no. 20 on the Billboard Hot 100. She also joined Machine Gun Kelly on "Bad Things." The song peaked at no. 9 on the charts.
Breakups and changing members are part of the narrative of pop groups, from NSYNC, the Spice Girls, Destiny's Child and One Direction. But Fifth Harmony seem to be picking up right where they left off.