30 people feared dead after a huge snow avalanche in Italy triggered by a series of earthquakes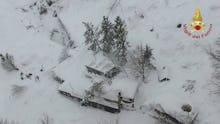 Several people are feared dead after a massive snow avalanche triggered by a series of earthquakes in the Abruzzo region, on the east coast of central Italy. Four magnitude-5 earthquakes occurred in succession on Wednesday night. 
As many as 30 people, including children, are trapped in the four-star spa Hotel Rigopiano. The hotel is in the remote Gran Sasso mountain range, located in the ski resort town of Farindola. Those trapped are guests and employees; the hotel's roof has partially collapsed.
First responders could only access the hotel via skis and spent all night digging through the 6.5 feet of snow occluding the hotel, trying to access those trapped inside. They worked in severe weather conditions. 
"There are many dead," the head of the Abruzzo mountain rescue team, Antonio Crocetta, told Italian news outlet ANSA. So far, the rescue team has retrieved one body and three survivors, but the majority are trapped inside the hotel. 
Recent snowstorms blocked off roads to the area and cut off power. However, the civil protection agency has been trying to get rescue vehicles through some of the roads.
"Help, we're dying of cold," one couple texted from inside the hotel, according to ANSA, the Associated Press reported. 
"Some walls were knocked down," a text from another victim reportedly said, the AP reported, citing the Italian newspaper Corriere della Sera. "I'm outside with a maintenance worker but you can't see anything of the hotel, there's only a wall of snow in front of me."
Thirty-eight-year-old Giampaolo Parete was reportedly saved because he went to fetch something in his car when the avalanche happened — but his wife and two children remain trapped. 
Rescue workers continue their efforts to save those still stuck inside the hotel.
The Abruzzo — and surrounding — region suffered an even larger earthquake on Aug. 24. It was magnitude-6.4 and left nearly 300 people dead.