Chrissy Teigen posts pictures of her stretch marks on Twitter for some great reasons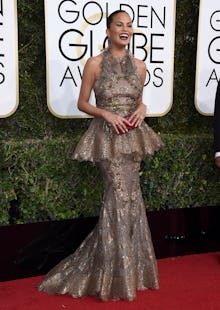 If you're not following Chrissy Teigen on Twitter, then you're just living life wrong. 
The model has created a brand of her own of borderline oversharing, whether she's talking about wearing diapers after birth or having to shave her legs for a dress. Still, it's always somewhat endearing. 
That streak continued on Wednesday night, when Teigen posted a picture of her stretch marks on Twitter with the caption, "Whatevs." 
Fans quickly shared appreciation for the the post.
Teigen has never been shy about embracing the stretch marks on her thighs. Back in 2015 on Instagram, she posted a picture of her stretch marks with the caption: "Stretchies say hi!" A year later on Snapchat, she posted a video of them with the caption, "lol my thighs have tributaries." 
Clearly, no shame here. 
But on Thursday morning, Teigen decided to get specific as to why she loves sharing photos of her marks with the world. It's not for the praise from people overjoyed that this model is unafraid to show the realities of being a human woman — it's actually for some perfectly Teigen reasons. 
"I do not post stretchies for the praise," Teigen wrote. "I post it because the wine also I like the pattern and they're so soft." 
So rather than posting something embarrassing on Twitter after one too many glasses of wine, Teigen opts for pictures of her stretch marks. 
Not a bad plan, really.