New 'Power Rangers' trailer introduces Bryan Cranston's Zordon to the rangers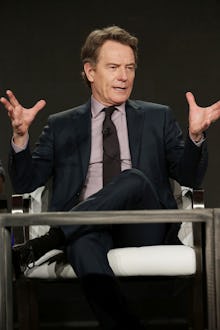 Ahead of the film's March 24 release, we're finally getting a glimpse of Bryan Cranston's Zordon in the new Power Rangers trailer. 
In the latest clip, we get an extended look at the powerful fivesome and their journey to becoming the legion of warriors. Zordon tells them about their new destiny after the band of misfits is united by a set of mysterious coins that turn them into the famous rangers. 
Cranston's Zordon is an updated version of the character you may remember: The actor is serving less floating-head realness and appears to be made of blocks, but that famous voice of his seems to be the perfect fit. 
We also get a better look at Rita Repulsa — played by Elizabeth Banks — and our first peek at Alpha 5, as voiced by Bill Hader. It looks like the rangers get up to their old-school style battles with some new-school CGI (though these computer graphics still look a bit unfinished) and morph all the way up. To complete the powerful journey, the trailer is set to Kanye West's "Power," because of course.