Azealia Banks would love to perform at Donald Trump's star-lacking inauguration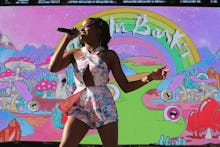 Rapper Azealia Banks has a remedy for Donald Trump's troubles when it comes to booking inauguration talent. That remedy is Azealia Banks. 
In a post to her Facebook page on Wednesday, Banks said seeing the inauguration lineup made her "very upset." 
"This is an EPIC moment in modern history and it should def be celebrated in style," Banks said. "I would love to perform at the inauguration." 
Banks has counted herself among Trump's supporters since at least February, and even used her Instagram to gloat about his November victory the day after the election. 
"I'm fucking proud as FUCK of you," Banks wrote. "I must say that I am TRULY inspired by this and feel deep amounts of vindication. Thanks for letting me know that I'm not crazy (even though I fronted a few times) liberals run Hollywood and it's been a COLD WORLD OUT HERE FOR ME AS A TRUMP SUPPORTER."
Banks already has support from one of Trump's biggest fans. In a comment underneath the post, right-wing provocateur Milo Yiannopoulos took a break from mocking transgender college students to call Banks his "first, second and last choice" to perform at the inaguration. 
"Me and you in the front row looking MAAAAD cute omg we would break the internet," Banks replied. 
Banks' desire to perform at the presidential inaugration puts her squarely at odds with, well, most anyone with musical talent. In recent days, booked acts have scurried out from the day's proceedings. Broadway star Jennifer Holliday canceled her planned performance after backlash from fans, and, out of respect for the Boss, Bruce Springsteen coverband the B-Street Band also denied Trump their tunes.
Aside from her break with the musical community, Banks would be one of Trump's few black women supporters. Only 4% of black women who voted in November cast their votes for the former reality television star. Banks is also a member of the LGBTQ community, which makes her support for this administration, which already includes several anti-LGBT politicians — most notably seeming conversion therapy proponents Besty DeVos and Mike Pence — even more one-of-a-kind.