Who is Timothy Dolan? Inauguration preacher dubbed political "peacemaker" leads prayer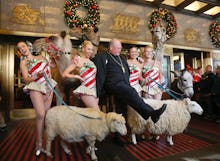 Cardinal Timothy Dolan is among six preachers who will lead prayers at Donald Trump's inauguration on Friday.
NPR called Dolan the "least surprising" pick of the bunch, as Trump and Dolan have known each other for years. 
The New York cardinal last appeared alongside Trump — and then-opponent Hillary Clinton — at October's Al Smith Dinner. At the time, Dolan recounted a rare moment of reprieve he said he witnessed between the two presidential candidates after he asked both of them to join him in prayer.
"After the little prayer, Mr. Trump turned to Secretary Clinton and said, 'You are one tough and talented woman,'" Dolan told Today. "He said, 'This has been a good experience, this whole campaign, as tough as it's been.'"
Dolan said Clinton returned the gesture of good will, stating, "Donald, whatever happens, we need to work together afterward."
Facilitating the moment of civility between the rivals earned Dolan the unofficial title of political "peacemaker."
In a post on his website for Martin Luther King Day, Dolan reflected on his role in Friday's inauguration proceedings — and admitted to having some concerns about the impending Trump presidency.
However, as will likely be the message behind his inauguration prayer, Dolan called for the nation to unite under the new president.
"Friday, we'll inaugurate a new president," Dolan wrote on Tuesday. "As with all previous ones, some welcome him, some are worried about him, most a little bit of both.  Whatever our reservations — and as with most other inauguration days, I have some too — it is classically a time of prayer, renewal, hope, and unity."
He added, "May it be so."