'America's First Family: The Trumps Go to Washington': When to watch the ABC special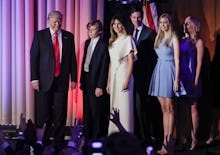 Instead of airing the season six premiere of Scandal, ABC will be airing the 20/20 special, America's First Family: The Trumps Go to Washington. New episodes of Grey's Anatomy and How to Get Away with Murder have also been delayed to make way for the broadcast. According to Deadline, those shows have been shifted to Jan. 26 to accommodate the pre-inauguration special.
So what is this program that's displacing all of ABC's beloved TGIT programming? And when can you watch it?
When to watch
The 20/20 special will air on ABC from 10 to 11 p.m. Eastern. on Thursday, Jan. 19. The one-hour special covers exactly what it says in the title: Donald Trump and his family. As Marie Claire writer Megan Friedman points out, "Instead of watching Olivia Pope fix all of fictional Washington, ABC viewers will instead get a dose of political reality."
What does Shonda think?
According to Slate, Shonda Rhimes has not said anything about the rescheduling, though she's an opponent of Trump. Rhimes, the creator of Scandal and Grey's Anatomy and the executive producer of How to Get Away With Murder, not only appeared in a Hillary Clinton ad in March, but has also posted multiple tweets about Trump.
But Channing Dungey, president of ABC Entertainment, told TVLine that rescheduling Scandal, which already has been delayed, was no easy choice.
"It was a very hard call. Believe me," she said. "Nobody else has been waiting for it bigger than me."
When reminded that ABC News presented no pre-inauguration special of President Barack Obama and his family, Dungey said, "There's a lot to be said and [ABC] News is very anxious to be saying it."
New episodes of Shondaland shows will return with new episodes on Jan. 26. Grey's Anatomy will air at 8 p.m., while Scandal will air at 9 p.m. and How to Get Away With Murder will air at 10 p.m.