The final 'Logan' trailer is here, showing off X-23 in all her glory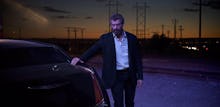 20th Century Fox released the final trailer for Logan, what is supposed to be Hugh Jackman's R-rated swan song as Wolverine, the character he first portrayed 17 years ago. The first trailer, released in October, was set to Johnny Cash's "Hurt," and played up the film's western tone and bleak setting. The final trailer, on the other hand, confirms what we were hoping: Logan is going to feature plenty of Logan and X-23 kicking butt. 
The final trailer for Logan gives us our best look yet at Laura Kinney, AKA X-23, a clone of Wolverine in the comics, and someone who is described as "very much like" Logan in the film. Kinney will be portrayed by Dafne Keen in Logan, and it looks like she's gonna be a badass. 
She is also apparently a fan of the X-Men, even carrying around a comic, which Logan claims is not an accurate rendering of the group's former exploits. "In the real world, people die," he says. This undoubtedly refers to the fact that the X-Men have been all but wiped out, as Logan's synopsis and previous trailer have highlighted the dwindling mutant population. 
X-23, despite being just a young girl, is shown taking down enemy after enemy with her two claws (as opposed to Wolverine's three). Logan will be the first film starring Wolverine to receive an R-rating, suggesting we will be seeing an X-Men film like no other (and the tone will be considerably different than Deadpool's). 
Logan will reunite Patrick Stewart and Hugh Jackman, who have appeared in five X-Men films together — X-Men, X2, X-Men: The Last Stand, X-Men Origins: Wolverine and X-Men: Days of Future Past — as Charles Xavier and Wolverine, respectively. Jackman has also appeared as the character in The Wolverine, X-Men: Apocalypse and X-Men: First Class. 
Logan will premiere at the Berlin Film Festival, before receiving its domestic release March 3.