Taylor Bennett, Chance the Rapper's little brother, came out as bisexual and Chance supports him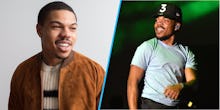 Here's the best way to celebrate your birthday — by being true to yourself. 
In anticipation of turning 21, rapper and producer Taylor Bennett, little brother to Chance the Rapper, came out as bisexual on Twitter. 
"I'd like to be more open about myself to help others that struggle with the same issues," he wrote Wednesday. "Today I would like to openly come out to my fans. I do recognize myself as a bisexual male and do and always have openly supported the gay community and will keep doing so in 2017." 
Within a few hours of Bennett's coming out, his older brother tweeted support, complete with a video. 
"Love this man right here, through any and all," Chance wrote. "He has grown into a great man. He's got God and me behind him, he cannot fail he cannot fall." 
The accompanying video shows the family celebrating Bennett's 21st birthday. 
Bennett's coming out marks even further progress for openly LGBTQ people in hip-hop. In recent years, acts like Mykki Blanco, Cakes Da Killa and Le1f have elevated queer voices in hip-hop to new heights. Shows like Netflix's The Getdown have fleshed out the pivotal role that queer people have always played in hip-hop history. 
Despite bisexual people being one-fifth of the LGBTQ acronym, and most queer people identifying with some form of bisexuality, bisexual people often face erasure within the larger LGBTQ community. That Bennett has claimed his bisexuality is important for his own selfhood, but also a big deal for the larger bisexual community. In the past year, Fifth Harmony singer Lauren Jauregui and Disney star Bella Thorne have also come out as bisexual. 
Bennett is set to release the track "Broad Shoulders," off his upcoming album Broad Shoulders, on Jan. 25.