Twitter releases 2016 diversity report and a renewed focus on inclusion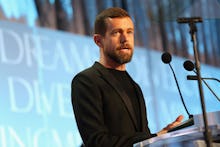 On Thursday, after a month's delay, Twitter released its 2016 diversity report. To no one's surprise, the company is still predominantly white and male, but it did meet and even exceed most of its annual goals.
The numbers are in: The social networking company increased the percentage of underrepresented minorities and women at the company overall as well as in leadership and technical roles, and aims to boost these numbers by a few percent by next year. 
Twitter's 2017 goals are certainly not lofty, but they do offer transparency as to what the company hopes to achieve in the next year. The objectives are more pragmatic than ambitious.
The company also noted in a blog post that in 2016, all new hires in the United States could self-identify as LGBTQ, and 10% of those who answered identified as such. The data will be more comprehensive come 2017.
A push for better hiring practices: In the blog post announcing the latest diversity report, Twitter's vice president of diversity and inclusion Jeffrey Siminoff pointed out a few ways in which the company aims to move the needle toward a diverse workforce. He cited inclusion and unconscious bias workshops, employee resource groups, new programs "focused on the development, visibility and sponsorship of women and underrepresented minorities in different areas" and adjustments to Twitter's technical interview process.
Twitter has a number of highly coveted spots open in its executive board and board of directors following a flood of departures in 2016. While the mass exodus hurt Twitter's share values, it's also an opportunity for the company to diversify what is often a homogenous group — executive positions and its board of directors.
"The good news is when those opportunities present themselves, we've been able to not fall into what I consider historical traps for this industry: Someone leaves and the hiring manager says, 'Well, I know a guy,'" Siminoff told Mic. "My view on that thing is: 'Well yeah, I'm sure you do. But let's talk about the field of really great available talent more completely.' Those are conversations that we've been having."
As Siminoff pointed out in the blog post, the company has put into effect "software-based tools" that can help cast a wider net for candidates as well as improve job descriptions. Twitter also aims to improve its recruitment strategy to better connect with potential candidates in different regions.
The company also updated its parental leave policy: Twitter will now give all parents — "regardless of gender or gender identity and inclusive of adoption, natural birth or surrogacy" — up to 20 weeks of paid leave.
Creating a positive environment: Siminoff said that a potential hire from an underrepresented group might ask, "What will it be like for me there?"
"That's a very complicated question for many people to answer when it comes to a career in the tech industry if they are a part of an underrepresented community," he said. "What I say to our recruiters and our hiring managers is it's on us to help women, LGTBQ people, people of color, whatever underrepresented group we're talking about, [and] feel like we are able to help them better answer that question than they would do on their own."
Leading with inclusion: Siminoff said that one of the things he did when he first started at Twitter in spring of 2016 was send out an internal communication to all employees that said that going forward, his position at the company was going to be known as VP inclusion and diversity, rather than the other way around.
"At Twitter we lead with inclusion," Siminoff said. "Diversity is all the things that make us different but inclusion is the active behavior that makes differences matter in the first place."
Diversity reports have become a common practice among major tech companies over the last few years. The self-reported numbers allow the public to hold companies to their commitments to diversity and inclusion. 
Another problem: The data could stand to be more revealing. In December, Gizmodo pointed out that a lack of intersectional data ignores "the specific issues women of color face, even after they're hired." That's why, beyond the data, a company's internal work culture is vital. They can hire as many women and people of color that they want, but if they are entering a workforce absent of inclusivity, it's not progress — it's checking boxes.
"If people don't feel they are included, if they don't feel a sense of belonging, it doesn't matter so much that you have diversity because the differences that exist among us sort of float around out there and they are not activated," Siminoff said. "We lead with inclusion because it's the intentional behavior."