Champion boxer Anthony Joshua attacked online for tweeting a photo of him praying at a mosque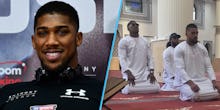 Lindsay Lohan isn't the only high-profile figure being attacked for their interest in Islam.
Champion boxer Anthony Joshua faced immense backlash from anti-Muslim and right-wing Twitter users after tweeting a photo of himself praying at a mosque while his brother led a small group in prayer. Joshua, the International Boxing Federation's world heavyweight champion, visited the mosque during his visit to the United Arab Emirates. The photo was uploaded, perhaps coincidentally, on what would have been Muhammad Ali's 75th birthday.
The 2012 Olympic gold medalist tweeted: "Besides luck, hard work & talent ... Prayer is a solid foundation. It was nice to join my brother as he led through afternoon prayer (asr)." 
Asr is the third of five prayers Muslims partake in daily.
In an October 2016 interview with the United Kingdom's Press Association, Joshua said he was raised Christian but doesn't follow an organized religion. There has been no word if Joshua recently converted to Islam and a rep for the boxer has yet to respond to Mic's request for comment.
On Twitter, Joshua experienced angry backlash for seemingly immersing himself in Arab and Islamic culture.
Luckily, many of Joshua's fans responded with an outpour of positive, kind and supportive messages. 
And then there was one perfect tweet that shut down all the racist far-right trolls: