When does 'Grey's Anatomy' season 13 return in 2017?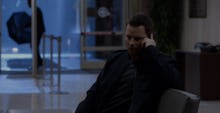 The return of Grey's Anatomy season 13 has been delayed due to a change in ABC scheduling. Though the new episode was slated for Thursday, Jan. 19, it will now air on Jan. 26. In fact, all new episodes of Shondaland shows have been put on hold to make room for 20/20's special on Donald Trump's family.
When will Grey's be back?
If you tune in at 8 p.m. Eastern on Jan. 19, all you will see is the show's winter finale (though you might appreciate the refresher). Grey's Anatomy will return with a new episode at 8 p.m. Eastern on Jan. 26. TGIT fans may also want to know that the season six premiere of Scandal and a new episode of How to Get Away with Murder will air on Jan. 26, too.
What's going to happen?
We have some idea of what will take place in the winter premiere. Actress Camilla Luddington, who plays Jo, gave TVLine a couple of hints.
"Jo, Bailey and Arizona go to a prison to help a 16-year-old girl — who's serving 20 to life — give birth," she said. "There are some funny moments and some scary moments and some really emotional moments. It's interesting to see how they react in a place that isn't their usual [hospital] environment."
And what about Alex? (Ahem, and the Alex-Meredith situation.)
Luddington hinted that while there's some "discussion of Alex," viewers won't "find out his fate" until the Feb. 2 episode.