Bruce Springsteen performed secret farewell concert for Obama at the White House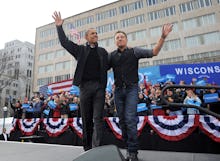 President Barack Obama has had the support of many great artists over the years, including Bruce Springsteen, who once supplied the outgoing commander in chief with an unofficial campaign theme song, "Forward and Away We Go," as a playful joke when he ran for reelection in 2012. 
So it's not a surprise that the rock legend took time out to perform a secret farewell concert at the White House for Obama and his staff during his final days in office. The show went down on Jan. 12, according to Backstreets, a site that tracks every Springsteen performance. 
The singer and his band played 15 songs including "Thunder Road," "The Promised Land" and "My Father's House," according to an account contributed to Backstreets by an individual who attended the special show.
"It was a humble, quiet gesture from Bruce to say thanks to President Obama, the staff and their families," the attendee wrote. "No pomp, no ceremony, no press. Just the man, the guitar and the songs." 
Springsteen was previously at the White House in November, when Obama awarded him with the Presidential Medal of Freedom. 
We also know where Springsteen will not be this week: the inauguration celebrations of President-elect Donald Trump. Even a Springsteen cover act, the B-Street Band, pulled out after initially being scheduled to perform at the Garden State Inaugural Gala. A long list of artists including Elton John, John Legend and the Dixie Chicks have publicly declined to perform at any inaugural festivities. The current lineup includes Toby Keith, 3 Doors Down and Chrisette Michele. Jackie Evancho will sing the national anthem at the swearing-in ceremony Friday. Both Michele and Evancho have received backlash for deciding to perform.
Other musicians have been signing on to support alternative events this weekend. Janelle Monae is performing at the Women's March on Washington, an event Beyoncé has also endorsed. Solange is set to perform at a Peace Ball Thursday evening.