'Injustice 2' Leaked Roster: Full list and guest characters allegedly revealed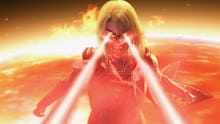 Earlier this week, we got a look at Injustice 2 in a brand new story trailer. The D.C. Comics fighting game from the creators of Mortal Kombat pits iconic heroes like Superman and Batman against each other in mindbending, dimension-hopping battles.
Unfortunately, there's no word yet on which characters will kiss each other. Butt here's still more news and rumors about the Injustice 2 roster to peel through, including a leak that may reveal all the characters in the new game.
Injustice 2 full roster leaked?
According to SegmentNext, a poster on 4chan leaked an Injustice 2 roster, sharing a screenshot that features many characters who are not confirmed for the game yet. The crowded roster included Mr. Freeze, Power Girl, two Green Lanterns (Hal Jordan and John Stewart), Scarecrow and others. Some of the leaked characters — Brainiac, Power Girl, Bane, Poison Ivy and Robin — were officially confirmed after the leak. So maybe there's some truth to this rumored roster.
Of course, the leak could also be the product of a savvy 4chan user with access to Photoshop and a working knowledge of D.C. Comics characters. The game's official website has a roster page that includes all the expected contenders along with slightly more obscure names like Deadshot, Atrocitus and Blue Beetle. There are also 20 empty slots for characters who have yet to be added to the page, hinting at a roster of 31 total characters.
If you really want to go down a comic book rabbit hole, EGM has a long list of characters and their chances of showing up in the game based on developer comments over the past several months. In case you're the one person who was wondering, it sounds like the Power Rangers won't be in the game.
More gaming news and update
Mic has all the latest gaming news, including information on the next Pokémon Go event, hands-on impressions of the Nintendo Switch and what you get with the special edition of The Legend of Zelda: Breath of the Wild.