Anonymous' threat to Donald Trump: He'll "regret the next 4 years"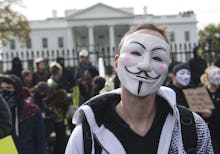 Hacking group Anonymous has a message for President-elect Donald Trump ahead of his inauguration: He's going to regret his presidency.
In a tweet this week, Anonymous told Trump he is "going to regret the next 4 years." The tweet was sent in response to Trump's tweets criticizing departing CIA Director John Brennan, who discussed Trump in an interview with Fox News' Chris Wallace on Sunday.
Trump's two-tweet response to the interview reads: "Oh really, couldn't do much worse — just look at Syria (red line), Crimea, Ukraine and the build-up of Russian nukes. Not good! Was this the leaker of Fake News?"
Anonymous account @YourAnonCentral tweeted a reply to Trump and called him out on unsubstantiated claims of his "financial and personal ties" with mobsters and traffickers.
"You have financial and personal ties with Russian mobsters, child traffickers and money launderers," the group said in the first of two back-to-back tweets. "This isn't the '80s any longer, information doesn't vanish, it is all out there. You are going to regret the next 4 years."
According to Anonymous, its tweets have nothing to do with political party alliance. In a separate tweet, the organization said: "We could care less about Democrats attacking you @realDonaldTrump, the fact of the matter is, you are implicated in some really heavy shit."
The hacktivist group has a history of standing up to Trump. During his presidential campaign, Anonymous declared "total war" on Trump. In a video uploaded by the group back in March 2016, a computerized voice can be heard saying:
Your inconsistent and hateful campaign has not only shocked the United States of America, you have shocked the entire planet with your appalling actions and ideas. You don't stand for anything except for your personal greed and power. This is a call to arms.
Afterward, some of Trump's private information — including some voicemails and his social security number — was leaked by hackers claiming to be affiliated with the organization. The disclosed information turned out to be nothing new, as it had been available on the internet prior to the leak, NBC reported.
Mic has reached out to @YourAnonCentral and will update with any response.