Who is Wayne T. Jackson? Trump inauguration preacher believes being rich makes you blessed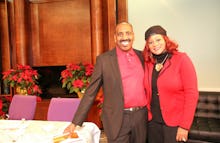 Pastor Wayne T. Jackson will be delivering the benediction at President-elect Donald Trump's inaugural ceremony Friday in Washington, D.C.
In September, Trump visited Jackson's Great Faith Ministries International in Detroit, where he spoke to the largely black congregation. Afterward, Jackson bestowed a prayer shawl on Trump and gave him a Bible. 
Despite Trump's attempt to court black voters during his visit, the event generated protests, with demonstrators outside the ministry holding "No Trump!" signs, according to CNBC.
Trump didn't fare so well with black voters in the presidential election. That being said, Trump could be hoping his relationship with Jackson may help him garner additional support from black Americans. 
Who is Wayne T. Jackson?
Jackson, who lives in Detroit, has been married to fellow pastor and business partner Dr. Beverly Y. Jackson for 36 years. The two have nine children and "multiple" grandchildren, according to his website. 
With the exception of his Trump endorsement, Jackson has historically supported Democrats.
The pastor established himself as a philanthropist within his local community and expanded his reach with a national TV network. Along with his wife, Jackson owns and runs the Impact Network, which describes itself as "the only African-American founded and operated" national Christian TV network.
Jackso said rich people are blessed by God
Jackson garnered attention in September when, referencing Trump, he suggested wealth was a sign of God's blessing. 
"Donald Trump is an example of someone who has been blessed by God," Jackson told the Conservative Chronicle, the Business Standard News reported. "Look at his homes, businesses, his wife and his jet. You don't get those things unless you have the favor of God."
The comments are in keeping with Jackson's prosperity gospel, a version of Christianity that venerates wealth.