Toronto Pride just voted to ban police from pride festivities, finally putting QPOC needs first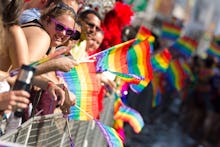 Pride Toronto voted to ban police from official participation in future pride parades, Vice reports. The vote to ban police comes only a few months after queer people of color within Black Lives Matter Toronto protested at the 2016 Toronto Pride Parade. BLM Toronto activists presented a list of eight demands to the parade's organizers. 
Among the demands were more support for the organization Black Queer Youth, increased funding for LGBTQ people of color party Blockorama, a commitment to diversity within Pride Toronto's staff and, most notably, the removal of police floats from the celebration. 
BLMTO co-founder Alexandria Williams told Vice that the "glorification of police at Pride is just completely irresponsible and disrespectful to a community that has been heavily policed, heavily controlled, experienced an extreme amount of violence by this force."
"I can't even explain how I feel that we asked Pride to do something and the community responded and we got our results," Williams said.
The group is against a uniformed police presence, though it has no problem with officers attending on their own in plain clothes. Either way, Toronto police are not happy with the decision. 
Mike McCormack, president of the Toronto Police Association, told Vice that members of the association are "offended" by Pride's decision and said that Toronto police do not have a bad relationship with the city's black citizens. 
"It's very interesting that a group like the Pride organizers who talk about inclusivity would take a position that is about exclusivity," he said to Vice. 
Mic previously reported that several U.S. pride parades dealt with similar police-based controversies. In San Francisco, Black Lives Matter actvists, set to grand marshal the parade, pulled out due to the increased police presence at the 2016 parade. 
At the time, the activists cited the SFPD's string of scandals and killings of people of color. They said that, while first responders can be a great resource during a crisis, "they are too often the cause of harm in queer communities of color." 
Black Lives Matter Toronto and Pride Toronto did not immediately respond to requests for comment.