Who is Paula White? Trump inauguration preacher was once investigated by the Senate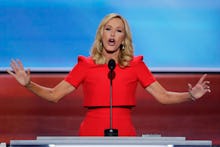 Donald Trump is set to be sworn in as president on Friday, and during his inaugural ceremony he will be accompanied by no fewer than six clergy members, reported the Washington Post in December, including controversial televangelist Paula White. 
White, who delivered a benediction at the Republican National Convention in July, is a known "prosperity preacher," meaning, as the Post reported, that she promotes in "the theology that God will bless true believers not just with eternal salvation but with material wealth here on Earth." 
Visitors to White's official website can purchase a $75 "2017 First Fruits Offering," which promises in the "product description" that "your first fruits offering will open up something powerful! It releases financial miracles, opportunity, favor and supernatural blessings."
In 2007, White, along with other "prosperity-gospel-preaching televangelists," was investigated by Iowa Republican Senator Chuck Grassley, a member of the Senate Finance Committee, the Daily Beast reported. After three years the investigation closed without finding any evidence of wrongdoing.
It's perhaps unsurprising that White will join Trump's inauguration activities — she's been a Trump ally for years, once reportedly describing him to the Tampa Tribune as "a diamond that reveals a new facet each time it is turned in the light," according to the Daily Beast.
White is reportedly planning to ask God to "richly bless our extraordinary home, the United States of America," during her inauguration prayer, according to the Post.