Melania Trump's Inauguration Day Outfit: Incoming first lady channels Jackie Kennedy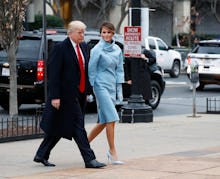 For her first fashion statement as soon-to-be first lady at the 2017 inauguration, Melania Trump opted for a light blue dress and jacket with an exaggerated neckline designed by Ralph Lauren, with matching shoes and gloves for the morning prayer service in Washington, D.C.
"With the historic swearing-in of her husband, Donald J. Trump, as the 45th president of the United States, the first lady-elect will become America's new first lady wearing an American designer who transformed American fashion, Ralph Lauren," a Ralph Lauren spokesperson told Women's Wear Daily. 
The look itself was elegant and reminiscent of what first ladies have worn in the past on Inauguration Day, especially Jackie Kennedy Onassis, who was the first person some people thought of when they saw the ensemble. 
The look was, in fact, similar right down to the color of Kennedy's ensemble to the 1961 inauguration. 
With the matching gloves and shoes, the outfit also looked reminiscent of Michelle Obama's ensemble at the 2009 inauguration, when she wore Cuban-American designer Isabel Toledo, green from head to toe. 
And as with many first ladies before her, Trump chose an American designer, like Obama in 2009 and Laura Bush, who wore Oscar de la Renta, a Dominican-American designer, to the swearing-in ceremony in 2005. In 2013, Obama mixed it up a bit, choosing American designer Thom Browne for the dress and coat.
With a look that already recalls first lades of the past, Trump seems to know exactly what she's doing.