Michelle Obama's Inauguration Day Outfit: Outgoing FLOTUS stuns (as usual) in red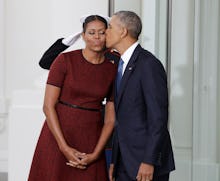 For her final appearance as first lady, Michelle Obama has made one last grand gesture to her fashion-adoring fans. 
On Friday morning, after Donald Trump and Melania Trump attended church, first-lady-until-11:59-a.m. Michelle Obama greeted them wearing a printed red dress designed by Jason Wu, a favorite designer of Obama's who also dressed her for both inaugural balls. 
Meanwhile, her husband, outgoing President Barack Obama, opted for a traditional suit and a blue tie. 
For the swearing-in ceremony, Michelle Obama slipped on a matching red coat. 
By wearing Wu for her final look as first lady, Obama solidifies her fashion legacy as one that celebrates young talent and designers of color. When she wore Wu the first time for the inaugural ball in 2009, he was just in his twenties. 
Over on Twitter, as expected, people were thrilled and even a little emotional about the look. 
Jan. 23, 2016, 9:39 a.m.: This story has been updated.