'Powerless' trailer shows how crappy being a normal human is in a superhero universe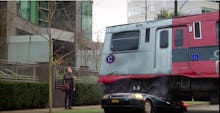 Have you ever wondered what happens to the citygoers in superhero films where half of their city has been decimated by the time the credits roll? Sure, the likes of Captain America: Civil War and Batman v. Superman: Dawn of Justice have touched on the ramifications of this, but fans are never flung into the daily lives of people who are so similar to ourselves. Except, hopefully, when you're walking to your car after work, a train doesn't land on the hood. 
In a nutshell, that's the entertaining conceit for NBC's new show Powerless, which will be set in the DC Universe. As the name suggests, Powerless is going to focus on the everyday people of Charm City who work at Wayne Security. Yes, that's the same Wayne name as Bruce Wayne, aka Batman, but the leading Wayne member of this series isn't Bruce. It's his cousin, Van, played by Alan Tudyk. 
Van and Bruce aren't all that close. 
The employees of Wayne Security are played by an entertaining cast that includes Vanessa Hudgens, Community's Danny Pudi and stand-up comedian Ron Funches. Which is to say, Powerless will very much be a comedy, rather than the very depressing everyone-in-the-city-is-dead reality that its DC Comics counterpart Batman v. Superman exuded. 
Powerless premieres Thursday, Feb. 2 at 8:30 p.m. Eastern on NBC. Watch the trailer below: