Here are the best signs from the Women's March on Washington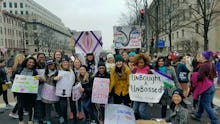 WASHINGTON — Well in advance of the Women's March on Washington, participants began crafting their signs. There were a few ground rules: In an effort to ensure signs wouldn't double as weapons, organizers banned wooden sign posts — pointy sticks that would potentially pose a danger in a large crowd — and poles. 
Marchers got creative. In a sea of some 500,000 people, many of whom donned the march's signature pink "pussy hats," slogans like "99 problems and this bitch is one" and "can't touch this" flew above over the pre-march rally. While co-chairs Tamika Mallory, Linda Sarsour, Carmen Perez and Bob Bland were clear that the Women's March would be neither anti-Donald Trump nor a protest, marchers' discontent with the new administration was evident in the signs they carried. 
Check out some of the best signs below.
"Grab 'em by the policy" / "Hands off our country" / "2.9 million real votes"
"Danger Zone" / "99 problems and this bitch is one" / "UnBought & UnBossed"
"Racial diversity, Education, Same sex marriage, Pro choice, Environment, Civil rights, Tolerance"
"Keep your hands & laws off my body"
"Yuuuge mistake"
"He shall overcomb & underwhelm"
"Cruella DeVos"
"My grandmother marched in 1963. I shouldn't have to in 2017."
"Repeal + Replace Trump not Obamacare" / "40% Approval — Lowest in history ... Sad!"
"Boys will be boys held accountable"
"Manbaby needs a spanking!"
"Nope"
"This pussy bites and she slays" / "We are the answers to our ancestors' prayers"
"Facts not fascism"
"The time is always right to do what is right"
"I didn't come out of the closet for this shit"
"We are the granddaughters of the witches you could not burn" / "Man, I feel likea woman" / "Be gone forces of anti-love"
"The fempire strikes back"
"Rebel"
"I'm here. I'm queer. I refuse to live in fear!"
"If abortion is murder then blowjobs are cannibalism" / "If men could get pregnant you could get an abortion at an ATM"
"Keep your little [hands] off my [uterus]"
"This is your mother speaking"
" < 3 "
Sign up for our newsletter to stay up-to-date on Trump's inauguration and the aftermath.