Who is Franklin Graham? Everything to know about the Trump inauguration preacher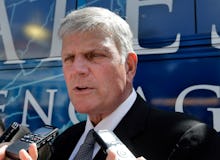 Franklin Graham, son of controversial evangelist Billy Graham, is one of several preachers scheduled to give a reading at President-elect Donald Trump's inauguration ceremony Saturday.
While Graham has been a longtime Trump supporter, endorsing him as early as 2011, he's nothing short of a polarizing figure. As an evangelist, he has been outspoken in his opposition to the LGBTQ community, and has was recently denounced by the Center for American-Islamic Relations for his Islamophobic remarks.
Here are some of the ways Graham has alienated communities of Americans throughout the years, and why some groups are calling for him to be dropped from the inauguration ceremony.
He's supported anti-LGBTQ legislation.
Graham, a North Carolina native, openly praised legislators in his home state after they introduced and subsequently upheld a controversial "bathroom bill" banning transgender individuals from using the bathroom corresponding to their gender identity in 2016.
"I'm very thankful for N.C. Lt. Governor Dan Forest and legislators for protecting women and children from pedophiles and sexual perverts," Graham wrote in a Facebook post after lawmakers refused to repeal the bill.
He has also said Russian president Vladimir Putin "is right" in his actions against the gay community in his country.
He's made openly Islamaphobic comments
In a July 2015 Facebook post, Graham openly called for the banning of Muslims from entering the United States.
"We are under attack by Muslims at home and abroad," he wrote. "We should stop all immigration of Muslims to the U.S. until this threat with Islam has been settled." 
In a statement, CAIR national executive director Nihad Awad said Graham's participation in the inauguration was a signal to the Muslim community that his past comments are acceptable in Trump's eyes.
"If President-elect Trump truly seeks to unite our nation as he promised in his acceptance speech, he will limit the list of those offering prayers at the inauguration to religious leaders who work to bring us together, not to create divisions between faiths," Awad said. "Rev. Graham's ill-informed and extremist views are incompatible with the Constitution and with American values of religious liberty and inclusion."