Hillary Clinton Inauguration Day Outfit: HRC pays homage to her famous white pantsuit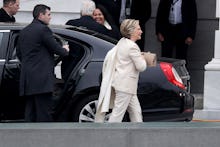 When in the woods, Hillary Clinton prefers fleece. When out on the town in New York City, taking in showings of The Color Purple on Broadway or dining at fancy restaurants, she prefers luxe and simple coats. 
But for important moments during her political life, Clinton prefers the white pantsuit. 
That was made all the clearer on Friday, when she arrived at Trump's inauguration wearing a cream pantsuit, very similar to the white suit she wore at the Demoncratic National Convention when she made history as the first woman to accept a major party's nomination for president of the United States. 
Even the designer for Friday's suit, Ralph Lauren, designed the other white suit as well. It should be noted too that Melania Trump wore Ralph Lauren on Friday too, though we doubt they coordinated this. 
At the time of the convention, Clinton's choice of white was seen as an ode to suffragettes, who often wore white dresses while demonstrating. So what could this white suit signify? 
Well of course, it could signify that Clinton knows white is now her signature color. It could signify yet another nod to women who fought for the right to vote. It could signify hope, and maybe even a brighter future. 
"I'm here today to honor our democracy & its enduring values," Clinton wrote on Twitter on Friday. "I will never stop believing in our country & its future."
Regardless of whether or not Clinton was trying to send a signal to women in the U.S., it's clear that women are paying close attention to Clinton for clues for what she has in store for the future, and probably will be for a long time. 
Jan. 20, 2016, 11:27 p.m.: This story has been updated.