'One Day at a Time' show creators present an update on the American dream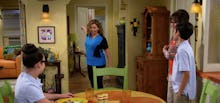 Since premiering on Jan. 6, the Netflix reboot of Norman Lear's One Day at a Time has won over Netflix viewers and critics alike. The sitcom has earned not only a Metacritic score of 78 but a flurry of tweets and other social media posts from fans.
"Well, they only had to remake a jillion TV shows from yesteryear to finally get one exactly, perfectly right," wrote Hank Stuever for the Washington Post. "Not only is Netflix's reimagined One Day at a Time a joy to watch, it's also the first time in many years that a multicamera sitcom (the kind filmed on a set with studio audience laughter) has seemed so instinctively comfortable in its own skin."
But the show has gained attention for more than its humor and warmth. Many people can't help but notice that the show centers on a Cuban-American family. Yet its appeal reaches beyond a Latino audience. Co-writer and producer Mike Royce believes the One Day at a Time's mass appeal breaks the cultural barriers still present in American television. 
"Yes, it's about a Latino family, but the world needs to be much more than open than to say, 'Oh, they're doing a Latino thing,'" said Royce in an interview with Mic. "We'll have done our job once people stop talking about it as a Latino show and start talking about it as a family show."
The inspiration for the show
Gloria Calderón Kellett is One Day at a Time's other co-writer and producer. The Cuban-American television writer explained to Mic how her family's history and experience have colored some of the show's cultural context. When Norman Lear was approached to remake One Day at a Time with a Latina single mother, he tapped Mike Royce for the project. But Royce needed a Latina writer/producer for his co-pilot. 
"Norman sat down with five Latina writers," says Calderón Kellett, who explained she was in that small talent pool. "There's not a lot of us is what I'm saying. I was fortunate to get drafted that day."
Royce says, "I read a lot of people and settled on her because I was — how should I say? — creatively smitten."
The pair spent months writing the show. Calderón Kellett jokes that the process was a mix of "weeping and laughing."
"We were in a small room on the Sony lot," she says. "I sat on his sofa with a blanket and he sat at his desk. We talked about his family and my family and it became this Norman Lear blender." 
"That's pretty much it," says Royce. "Weeping and laughing."
The show's social issues
The narrative of One Day at a Time touches on a range of social issues. They range from the challenges of the Veterans Affairs system to the stigmas attached to mental health treatment to LGBTQ discrimination and more. It should be noted that the show was shot from April to August 2016, right in the heart of the presidential campaign. But when asked if the presidential campaign influenced the show, Royce says not really. The show was already planned with Penelope, a middle class Latina mother, in mind. Later, when Calderón Kellett suggested that Penelope be a veteran, too, the issue of post-traumatic stress disorder came up naturally.
"The show is not built around subverting tropes, but I like it when we do it," said Royce. He adds, "Every one of those issues has a face behind it."
Mothers and daughters
Those faces came to mind in a more literal way when Calderón Kellett and Royce imagined the show's women. Mother-daughter relationships and generational differences are at the crux of One Day at a Time. In this respect, Calderón Kellett definitely draws from her mother, her personal views on feminism and her observations of her nieces.
"My mom was a working mom, but what's super interesting about her is that she does not leave the house without makeup on or without a kitten heel — at least," she says. "Makeup makes her feel powerful and that speaks to her badassery. However, she has a lot of old school, really traditional views about gender roles. During dinner, my mother brings my father's food to the dinner table. He does not get up."
When Lear asked Calderón Kellett how she would describe her mother, the Puerto Rican icon Rita Moreno popped up in her head. Royce quips that with her bravado and sex appeal, Moreno is "the only woman in the world who could date Marlon Brando and Elvis at the same time."
Calderón Kellett wanted the grandmother on the show to display that same kind of strength and confidence in her generation's understanding of femininity. 
"Norman got Rita on the show because when he asked me to picture my mother, I said she was just like Rita Moreno — a 98-pound popsicle who's feisty, incredible and can fill a room," she says.
But Calderón Kellett is not as traditional about gender roles as her mother and she wanted Justina's character to reflect that generational difference.
"I'm somewhere in the middle," she says. "I don't mind people holding the door open for me or calling me sweetheart. But I can do things myself. I'm definitely a feminist. Then there are my nieces and they are more like Elena [the show's teenage daughter]."
On-screen diversity in Trump's America
One of the reasons why Calderón Kellett was excited to work on One Day at a Time was because she saw an opportunity to write authentic, well-rounded Latino characters — "not the stereotypical ones."
"I can count the number of Hispanic shows on my hand," she says. "And I'm not related to anybody who's in a gang. My parents are immigrants and I remember our household being about hard work and education." 
But Calderón Kellett is careful not to speak for all Cubans, let alone all Latinos.
"I can really only speak for my specific circumstance," she says. "Hopefully what I get to say is that we're all different. I can't speak for all Cubans."
To her, the bigger point is to show how Cuban-American families are much like any other American family.
"Like Norman always says, we're connected by our commonality," she says. "We'll feel we've really succeeded when they're talking about family."
Writing relatable, non-stereotypical Latino characters was just as critical to her, and Royce, as casting actors who could embody them. 
"By the time we got to casting, we'd been writing for six months," Royce says. "You're in a bubble then. Then they're going to make the show, so they have to do casting. That's when we thought it could all go down the tubes. But they cast Justina [Machado] and she came in and elevated [our script] to the nth degree."
"She just came in and blew us away," says Calderón Kellett. "How this woman has not had five shows under her belt is beyond me. She does comedy and drama so beautifully."
An update on the American dream
If you ask Royce and Calderón Kellett, One Day at a Time is about an American family's real dreams and challenges. Those are not necessarily the same dreams and challenges of yesteryear. 
"The middle class, if you look at the statistics, is disappearing," says Royce. "Our family presents the middle class, not as an archetype but as an example, of which there are millions. People love the idea of the middle class. Our show helps reinforce that it's a good thing to have."
While Calderón Kellett says she appreciates the "push for minorities on television to be aspirational," she also believes it's "important to show families struggling.
"Not everybody's zooming through life," she says. "I still go to McDonald's and take the extra ketchups and put them in the fridge. When you have immigrant parents, you grow up hearing [things like] 'Ketchup's expensive.' That's the stuff you get growing up, but it's also funny."
She adds that portraying families who don't have "everything" "speaks to the commonalities" of the American middle class — regardless of race and ethnicity.